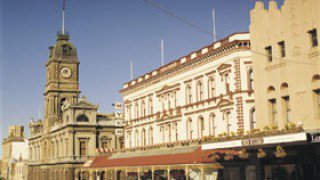 The municipal district of the City of Ballarat is part of an area of land under the traditional custodianship of the Wathaurong people and comprises the city of Ballarat, which is e of Australias largest inland cities and the third largest city in Victoria, and the townships of Learmonth, Buninyong, Miners Rest and Cardigan Village. In all the City of Ballarat has an area of 740 square kilometres and an estimated population of 88,437 (2006).
The City is located in western Victoria, surrounded by the municipalities of the Shires of Hepburn, Pyrenees, Golden Plains and Moorabool.
Ballarat is in a key strategic position at the centre of some of Victorias most important freight, tourist and commuter transport routes. The four main highways radiating from Ballarat - the Western, the Midland, the Glenelg and the Sunraysia - connect it to Industrial centres such as Melbourne, Adelaide, Geelong and Portland; regional locations like Bendigo and Mildura; and agricultural areas in the Mallee and Wimmera.
The City of Ballarat lies within a gently undulating section of the midland plains, which stretches from Creswick in the north to Rokewood in the south, and from Lal Lal in the south-east to Pittong in the west. These plains are made up of alluvial sediment and volcanic flows, and contain large areas of rich agricultural soils.
More Information at  www.ballarat.vic.gov.au
Education
Ballarat College

Ballarat Girls High School

Ballarat Primary School

Ballarat School Of Mines

Ballarat Special Developmental School

Black Hill Primary School

Golden Point Primary School

Macarthur Street Primary School

Mount Pleasant Primary School

Pleasant Street Primary School (Ballarat)
Parks
Albert H Graham Reserve
Alfred Deakin Place
Ballarat City Skatepark
Eureka Historic Park
Eureka Stockade
Lake Esmond Botanical Park
Midlands Golf CourseMorshead Park
Victoria Park
Weeramar Park
Recreation
Albert H Graham Reserve
Alfred Deakin Place
Ballarat City Skatepark
Eureka Historic Park
Eureka Stockade
Lake Esmond Botanical Park
Lions Gate Reserve
Morshead Park
Victoria Park
Weeramar Park