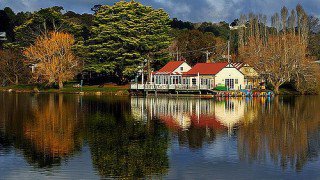 Daylesford is a spa town, approximately 46km from Ballarat and with a population of 2,565 approximately.
Daylesford is a notable tourist destination ofr the numerous spas, restaurants and galleries alongside gardens and country-house-conversion styled bed and breakfasts.
The Daylesford wine region is fast becoming known as Australia's best Pinot growing region.
The town is also knows for hosting a number of annual events including the Chillout Festival, the Harvest Week Festival, the Lavandula Festival and the Hepburn Springs Swiss Italian Festival.
The town is home to a number of primary schools and one public secondary school. Daylesford also has a football team in the Central Highlands Football League.
Education
Daylesford Dharma School
Daylesford Primary School
Daylesford Secondary College
St Michael's Primary School Daylesford
Recreation