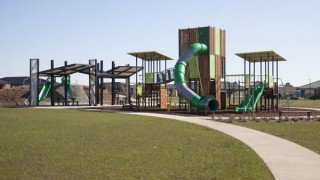 Delacombe is a large and fast growing industrial/residential suburb on the south west of Ballarat with a population of over 4,932 approximately.
It is one of the few Ballarat suburbs with its own shopping centres and a future activity centre for the suburb planned by the Council.
Delacombe is home to two primary schools, Lumen Christi Catholic School and Delacombe Primary School. For public recreational use, the Delacombe Sports Centre is available.
Education
Delacombe Primary School
Lumen Christi Primary School
Phoenix P-12 College
Parks

Recreation
Ballarat & District Trotting Club
Ballarat Greyhound Racing Club