Enclosing your apartment balcony may pose a litigation risk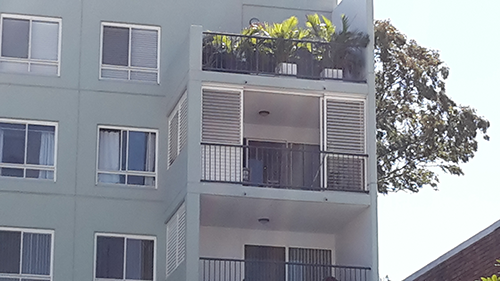 Thinking of partially or fully enclosing your apartment's balcony for privacy, sun or weather protection? You may want to think again.

In the wake of London's Grenfell Tower fire tragedy and Melbourne's Lacrosse Tower incident, the Queensland Building and Construction Commission (QBCC) is clamping down on the retro-fitting of external shutters, blinds, glazed windows and panel partitions on the balconies of high-rise apartment buildings, saying they're a significant fire and wind load hazard.
The Commission warns that some apartment owners may be under the impression they only have to gain approval from their Body Corporate to partially or fully enclose their balconies however this kind of work is captured under the definition of "building work" for the purposes of the Building Act 1975 and must comply with the Building Code of Australia (BCA).
The QBCC cautions that some of the materials used in these kinds of external shutters, blinds, windows and partitions may be non-combustible, and could aid in the rapid spreading of a fire up the side of the building and into other people's apartments.
Modern apartment buildings must incorporate 'vertical separation' in their structural design, usually involving a large non-combustible concrete slab between units, however the QBCC warns non-approved balcony enclosures could provide a 'physical bridge' that allows a fire to spread from unit to unit.
The Commission also includes wind loading as another risk factor citing an incident in 2009 on the Gold Coast where a balcony privacy screen became a deadly projectile after it came loose from its mountings during a severe storm, tragically causing a fatality.
The strength of wind experienced at the upper levels of an apartment building are far greater than those experienced at ground level and many commercially available products and materials may not be engineered to withstand these kinds of high winds. And the people supplying and fitting these products and materials may also not have the knowledge and expertise necessary to ensure full compliance with the building code.
According to the Commission, "The determination of such wind loads on a multi-storey building is a complex task and falls within the professional expertise of a structural engineer to assess. The assessment will include not only potential wind loads, but the suitability of the fixings proposed to be used to secure these items to a building."
The Commission recommends that the partial or full enclosure of a balcony, undertaken after a unit building has been approved and constructed, should only be conducted in consultation with a Building Certifier.
"Unless contractors who install external shutters and blinds, window enclosures or panel walls are skilled in understanding and interpreting requirements of the BCA, they may be unwittingly impinging upon the levels of fire safety afforded to occupants of a completed building. They may also be caught up in protracted litigation if an incident were to arise in the future," the Commission warns.
For more information visit the QBCC website.
Photo source: Queensland Building and Construction Commission website