Light Rail spur could mean big things for West Burleigh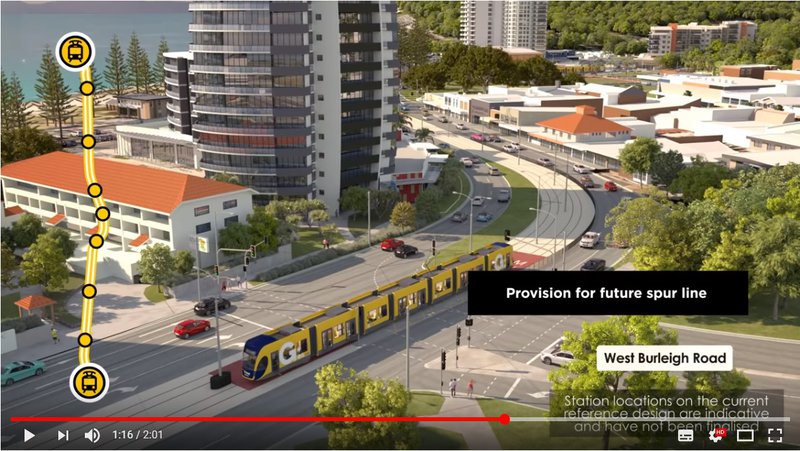 The news that stage 3A of the Gold Coast Light Rail network would include two spurs for possible future lines to the west of Burleigh and Miami, has been welcomed by a local Burleigh property expert.
Mark Smith from PRDnarionwide Burleigh Heads said the potential new line would open up West Burleigh and create real connectivity to the rest of the Gold Coast.
"We could expect to see property prices rise in West Burleigh, especially along the proposed rail corridor, if the decision is made to go-ahead with this western spur," Mark said,   "It would be a long way down the track, but something like that would be a game-changer for the area."
A video released by The Department of Transport and Main Roads (TMR) shows the provision for a spur line running west from the Gold Coast Highway at Burleigh along West Burleigh Road as well as another at Miami starting at the highway near Miami State High School and heading towards Robina along Pacific Avenue.
While the project in still in the very early stages and subject to change after public consultation, the inclusion of the spur shows the government is confident that West Burleigh is a substantial future growth area.
Stage 3A of Gold Coast Light Rail is set to receive $112 million in federal funding this year to allow the network to extend from Broadbeach to Burleigh Heads. Stage 3B, scheduled to begin after the completion of the Burleigh connection will take the light rail line south to the Gold Coast airport at Coolangatta.
New data released earlier this year shows the number of people using light rail on the Gold Coast increased 33 per cent between December 2017 and July. The percentage equates to 51,000 more passenger trip than were forecast in original projections.
If you're thinking of buying or selling in the West Burleigh area, contact the Burleigh Heads property specialists at PRD Burleigh Heads on 07 5535 4544 or burleigh@prd.com.au.