PRDnationwide Penrith win big at national awards gala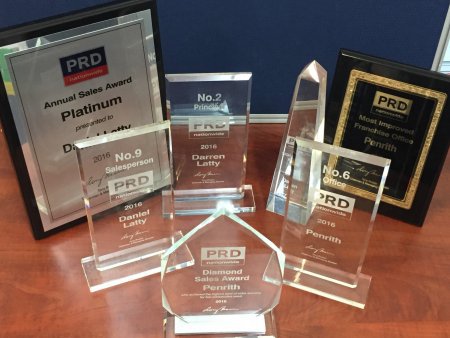 On Saturday 22nd April our team attended to the PRDnationwide Annual Gala Awards Ceremony and had our best haul yet!
There are over 130 PRDnationwide offices across Australia, and for a team of our size to have achieved so many top 10 awards is outstanding. These kind of results are only possible thanks to the experience, dedication and enthusiasm we have within our team – so a huge well done to everyone.
Here's what we won:
Neville Wilson Rookie of the Year – Matthew O'Farrell
No. 2 Principal – Darren Latty
High Altitude Award – Darren Latty 
Platinum Sales Award – Daniel Latty 
No. 9 Salesperson – Daniel Latty
Diamond Office Award – Penrith
No. 6 Office – Penrith 
Most Improved Franchise – Penrith
10 Years Service Award – Natalie De Chellis
15 Years Service Award – Marnie Fawns
Silver Sales Award - Matthew O'Farrell