The 5 Steps to Finding Where Your Home Fits in the Housing Market
A Step-by-Step Guide to Finding the Estimated Market Value of Your Home
For Sale Signs Decorate your Streets
Everyone you meet will mention the housing market and its Everest type growth. You see your neighbours pull up stakes and sell their property for enough that you begin to wonder… If they can do it for that much, then what could my property be worth?
A seed is planted, and with the market's continual rise you need to know how to estimate the market value of your home.
We provide 5 easy concepts to ensure a more accurate value for your property within the increasingly dynamic property market.
Going Beyond Location, Location, Location
Location is always a factor one must understand when valuing a property. The location is not just the land you own and the property that sits atop it.
Location encompasses:
Community
Amenities
Necessities
Convenience
And 'finally', Geography.
It's easy to brush over location as merely the suburb your property resides in, or the size of your land. But the more accomplished and educated Buyer/Seller recognises the true value in location.
Working from the outside in is a great method for establishing your properties local value.
Understanding how far the property is from public transport, schools, shopping centres and sporting grounds can significantly affect certain buyers' perspectives.
After covering your community it's time to work inwards.
From suburb to street, your neighbours affect the perception of your property.
You may keep your property well maintained, alas, if the remainder of the street is unkempt you may need to adjust your figures accordingly.
Further, a bustling main street will be valued differently to the quiet suburban cul-de-sac. The balance between convenience and comfort then comes into question.
Finally, we come to your property properly. The land dimensions will naturally play into the value of your property. In addition, positioning and the aspect of the home itself must be taken into account as this too adds value.
A north facing house is a garden's best friend.
Location is an aspect that can significantly assist the estimation of one's Fair Market Value. When comparing your property with those that have sold nearby, consider land in all forms. Near and far both affect where you are.
Good Property is Like a Fine Wine
In the eternal search for something new, the age of your building determines a further segment of your property's value.
A brand-new house will naturally catch the eye as it adheres to the current design era. This being said, one must still err on the side of realism when comparing houses. Five years difference in building age and design is a key aspect of valuing, however, it is by no means the most significant element.
Similarly, condition is a valued aspect of accurately appraising your home. One must understand that this element is to be broached with realism in mind.
Dirty walls and torn carpet must be valued appropriately.
Condition is not just the state in which you keep your home.
The materials used to create the building fall into the category of condition. If your builder gave the house strong bones, you would find that even if the house is older, the foundations in place incentivise gentrification.
Sticks and stones may damage your walls, but a sturdy foundation will hold its value.
The condition and age of your property are both valuable aspects when appraising your home. To achieve an accurate Fair Market Value, one must take condition and age into account.
Ticking the Box from House to Home
The layout of your property is an increasingly crucial part of the evaluating process. One must first evaluate their layout and space by comparing properties of a similar size. A three-bedroom house on 250m² holds a differing value to that of a three-bedroom house on a 500m² block.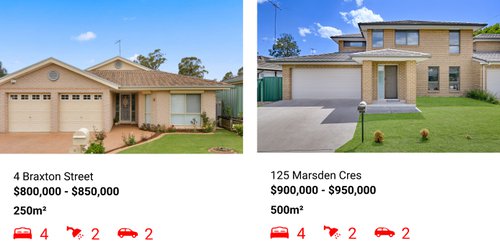 Discover Penrith Real Estate with the PRD Penrith team.
As with everything in the evaluation process, realism is highly important. To achieve an accurate result, one must attempt to consolidate similarities.
Layout and features are an aspect of home owning every buyer will consider. The bedroom, bathroom, and car space concepts are a strong start for your evaluation.
Comparing your property to a recently sold house with the same assets will assist in achieving an accurate market value.
Open plan, a spa fit for two, an elegant sunroom…
Additional features, from study nooks and theatre rooms to built-in wardrobes and hardwood floors, can all create additional value within your home and should be taken into consideration when comparing and coming to a final valued conclusion.
They made how much?
The most reliable method of comparison is looking at the market around you. See what your neighbours have sold for and compare your building appropriately. Analysing the properties around you is the best way to create a baseline for your Fair Market Value.
First compare with properties like your own. This forms your baseline. A baseline enables a realistic starting point.
Next, take your baseline and use the location, layout, age, condition, and additional features to create a modified and more proficient evaluation.
Stressing the importance of a realistic approach is vital. Realism attributes to an accurate evaluation.
Sentimentality can cloud a realistic appraisal.
This realism is for a general appraisal and it should be understood that housing prices are subjective, within reason. A family may prefer one house over another as there is a desired feature or environment to the property.
Achieving a Fair Market Value is still an excellent means of obtaining a more succinct and approximated evaluation of your property.
Your Teacher was Right… Math is Everywhere
The baseline for your property can be found through the general comparison of the market, as aforementioned.
For a more accurate baseline to achieve the precise value of your property, increase the number of properties you compare and run them through an average price per square metre process.
This process allows you to create a baseline that avoids human error through means of a mathematical approach.
Taking each sale price and dividing them by the provided square meterage enables one to create a figure that can then be used to estimate the approximate value of the space of your property.
Find the average cost between the compared properties and multiply this cost
by the square meterage of your property for an accurate valuation.
Remember to then add the additional steps discussed in this article to your newfound baseline for a final result of your very own estimated market value.