Q2 2019 Key Market Indicators – Northern Territory
The Northern Territory Is The Winner This Quarter, Taking Out Four Gold Awards! 
For the first time in the history of the 'PRD Key Market Indicator Awards', the Northern Territory (NT) has come out as a clear winner among other states, earning four gold awards nationally for Q2 2019 in the following categories: highest home loan affordability index reading, most improved home loan affordability index growth, most improved number of first home buyer loans, and lowest unemployment rate. By doing so, the Northern Territory has taken out Victoria, which was the winning state last quarter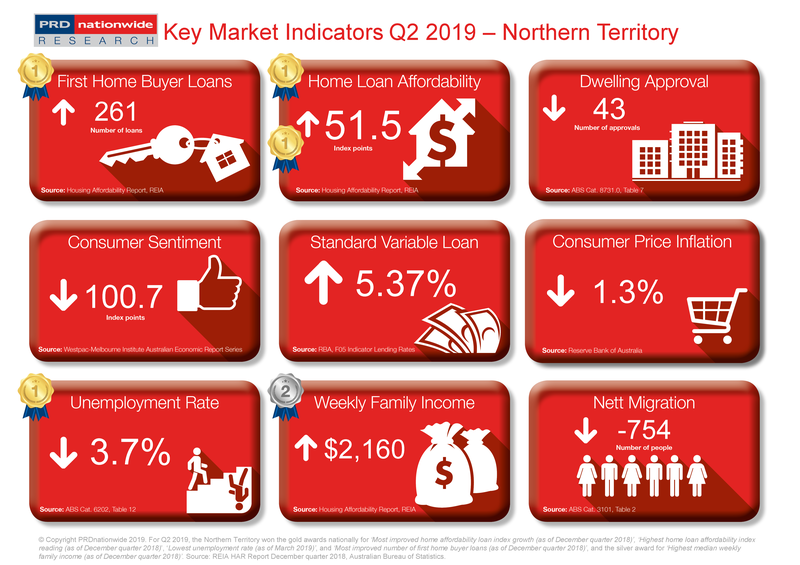 The NT continues its streak as Australia's most affordable market, with its home loan affordability index increasing by 7.5% over the past 12 months (to December the quarter 2018), to 51.5 index points. This is significantly above the Australian average for both home loan affordability index growth (of 1.3%) and reading (32.0 index points), making the NT the most affordable market in Australia presently. It is therefore no surprise that first home buyer growth over the past 12 months (to the December quarter of 2018) is the highest in NT, recording at 24.3%, which is a contrast to the decline in the Australian average at -5.8%. The NT is thus an ideal market for first home buyers to take their first steps in wealth building. 
Dwelling approvals in the NT have declined over the past 12 months (to February 2019), by -15.7%. This strategy somewhat makes sense, as nett migration to the NT declined by -35.6% over the past 12 months (to September 2018). This strategy allows for current and in construction stock to be absorbed, levelling out the playing field for first home buyers. That said, there is a large discrepancy between nett migration and dwelling approvals decline. With the NT being recognised as the most affordable state for first home buyers, and by having a 2.2% increase in weekly median family income over the past 12 months (to the December quarter of 2018), it presents opportunities for developers to create a unique offering for the market.
The 'PRD Q2 2019 Key Market Indicators' provide a quick snapshot of the current state of the market in Australia from both an economic and property perspective. The Indicators cover both national and state level data, comprising of: 
Number of loans to first home buyers
Home loan affordability index
Number of dwelling approvals
Consumer sentiment index
Standard variable loan
Consumer price inflation index
Unemployment rate
Weekly family income
Nett migration
View the Q2 2019 Key Market Indicators