Q4 2019 Key Market Indicators – Queensland
Housing is starting to become unaffordable in Queensland 
Queensland's (QLD) home loan affordability index reading was 35.5 points in the June quarter of 2019, which held relatively steady compared to the June quarter of 2018 (35.6 index points). QLD remains the most affordable state compared with New South Wales (NSW) at 26.9 index points, Victoria (VIC) at 30.7 index points, and the Australian average at 32.2 index points. That said, the Australian average home loan affordability growth was 3.5% in the 12 months to the June quarter of 2019, thus, in comparison to the whole nation, QLD has become more expensive.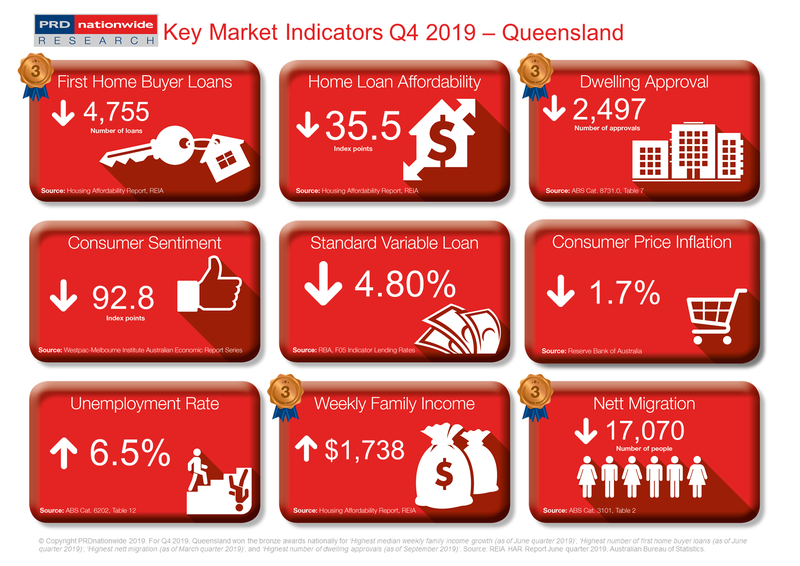 The effect of this can be seen in first home buyer loans growth. Despite QLD recording 4,755 first home buyer loans in the June quarter of 2019; earning the state a bronze medal nationally in the Highest Number of First Home Buyer Loans category in the PRD Q4 2019 Key Market Indicator Awards; this represents a -17.8% decline over the past 12 months. QLD's decline was triple that of NSW (-5.9%) and double that of VIC (-5.7%), while the Australian average was -7.6%. Stagnant growth in home loan affordability may explain these figures, as well as low confidence and tight lending policies.
The number of people choosing to call QLD home continues to increase, with nett migration of 17,070 people in the March quarter of 2019, compared with an increase of 11,927 people in the December quarter of 2018. This earned QLD a bronze award nationally in the Highest Nett Migration category. A population increase signals the need for more housing, however, due to current home loan affordability and first home buyer trends, developers will need to create affordable offerings which service local market needs.
The median weekly family income in QLD was $1,738 in the June quarter of 2019, which was a 2.7% increase in the past 12 months. This is on par with the Australian average increase of 2.6%, however, there is a need to address the 8.3% increase in the unemployment level in the 12 months to September 2019.
The PRD Q4 2019 Key Market Indicators report provides a quick snapshot of the current state of the market in Australia from both an economic and property perspective. The Indicators cover both national and state-level data, comprising of:

Number of loans to first home buyers
Home loan affordability index
Number of dwelling approvals
Consumer sentiment index
Standard variable loan
Consumer price inflation index
Unemployment rate
Weekly family income
Nett migration
Download PRD Q4 2019 Key Market Indicators - QLD