Elderly Australians at Risk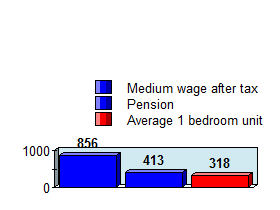 You don't have to look far to come across evidence that elderly Australians are an at-risk group in regard to housing stress. Elderly Australians being forced to subsist though the latter part of their lives is rapidly becoming a new paradigm in Australian society.  Keep in mind the maximum pension a single retiree can receive is just $413.10 a week.

Housing stress is defined has spending more than a third of your weekly income on housing.

This is leaving large numbers of people who have worked their entire life in anticipation of retirement at massive risk during the period of their life when they're already at their most vulnerable. Superannuation is good, however when you consider the fact that the average amount of money 45 to 49-year-old males in Australia has in super is $145,076 it paints a grim picture.

Assuming these individuals work until they're 67 and are earning at least $40,000pa during this time their annual income after retirement from superannuation is $32,445 or $524pw which comes in just above the "modest" level prescribed by ASIC for a single person. However, this certainly does not grant immunity to housing stress.

At the risk of over simplifying the answer to this is building enough wealth throughout your life to live comfortably though your retirement. However not nearly enough Australians are actively working to build their passive income throughout their working lives and in turn leaving themselves at risk of housing stress and the burden of rising housing prices throughout the period of their lives where they should have access to the highest level of choice. This coupled with ever increasing life expectancies paints a pretty bleak picture for those without a solid plan for their future.