One of my favourite day trips is a drive north to the Dingo Beach, Hydeaway Bay, Montes and Cape Gloucester beaches. However, be careful as this may be expensive - you may well fall in love and never come back! The drive is about 40 minutes from Airlie - simply head toward Proserpine/Bruce Highway and 6km past Centro turn right onto the Gregory Cannon Valley Road - 6km later, take another right, and finally, another 6km and take another right onto the Dingo Beach road. If you get back onto the Bruce Highway you have gone 1km too far.  All the beaches are lovely and all have some shopping/bar facilities, albeit modest.  
Dingo Beach 
Dingo Beach is very scenic at high tide, however, also comes alive at low tide.  The sand goes for a long way when the tide recedes and hours can be spent by any age group, particularly kids, walking in the low tide areas. There's lots of small fish in tidal pools and crabs and other marine life under rocks. 

The part closest to my heart at Dingo Beach is the Dingo Beach store and, in particular, Dooley's Bar named after my father, Dooley Leet. He was an amazing man (very active in the local Lions Club, starting both the Proserpine Harvest Fair and Dingo Beach Fun Day on the June long weekend) who spent a great deal of his spare time, like most locals, at the Dingo Beach store, talking to locals and visitors. The store has great weekend sessions in a true Whitsunday atmosphere. When you are at the bar, ask if Kev is around. He is a unique character who has lived on the beaches in this area for more than 30 years - ask him how to get a painted crayfish, you might be surprised how easy it is! 

You should be able to hire a tinny (a 4m aluminium boat) at Dingo Beach - ask at the store - this is a great fun thing to do if the weather is good. To the east, Nelly Bay and Jonah Bay are equally beautiful and generally much more private, particularly Jonah.  You may even be the only person on the beach for the day. Nelly Bay can be accessed by car from the continuation of Pioneer Drive at Dingo Beach and is a lovely quiet alternative.

Hydeaway Bay
The next bay to the north is Hydeaway Bay. It is a similar beach but more of a residential suburb, although there is the Hydeaway Bay caravan park and store. Spend an extra five minutes and drive all of the roads in the subdivision, as some of the views from the high roads are stunning. Hydeaway Bay is one of the area's few places where you can buy an absolute waterfront allotment, generally of about 800sqm. 

Montes Reef Resort (Tel: 07 4945 7177 www.montesreefresort.com.au )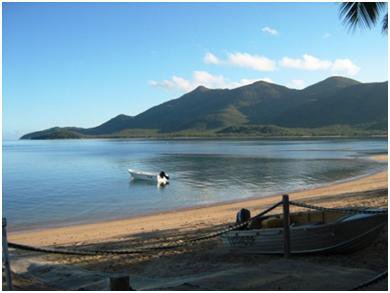 Montes Resort is a ten-minute drive from the end of the main road at Hydeaway Bay, along a dirt road that is all-vehicle accessible. Again the scenery is amazing and when you see a track to the right leading to the ocean it is worth stopping and having a look. Some of these areas are full of oysters at low tide - simply take a flat screwdriver and a butter knife, pick up a rock for a hammer, and eat until your heart's content. It's legal to eat oysters picked off the rocks but not to take them home. Montes has a great bar and restaurant - ideal for lunches any day of the week and about eight cabins set right on the water.  Take the time to have a fish off the beach, particularly the southern end in front of the last houses. We have caught some nice fish here.

Cape Gloucester

While this is at the end of the road it is well worth the trip. It has a beautiful beach and a great bar and restaurant to relax in. There are also a number of rooms/cabins you can stay in. Cape Gloucester has a nice pool and deck, which is great for the hot summer months when the stingers are around.  The locals in these areas are always up for a chat and it is a fun, friendly atmosphere. Take a walk along these beaches - you will feel like you are the first person to ever have done so, they are that natural. Cape Gloucester looks west over towards Bowen, which is 14 km away, and the town's lights can be seen clearly at night. Being a west-facing beach means it is also great for sunsets.  You can walk along the beach to the left toward Sinclair Bay (remember hats, lotion and water).  There are lots of rocky headlands to climb over. 

Bona Bay
When you are down this way on a good day, I think a must-do is to hire a tinny and go across to Gloucester Island and, in particular, Bona Bay, which I think is one of the best places in the Whitsundays.   
This is also a west-facing bay that has deep anchorage and is truly magnificent. There are lots of large overhanging trees for shade and the National Parks people do a fantastic job with the camping areas (to camp, check out the National Parks website www.nprsr.qld.gov.au/).  There are numerous tables, chairs and bush toilets. At 4pm you will always find a couple of travelling yachties on the beach having a wine at sunset and they are usually up for a chat. You will probably also find some people skiing or tubing. Say hello and tell them that Island Time suggested you ask for a go.  There is a ten- minute walk from the back of the bush toilets over to the beach that faces Montes - you must do this. The track is marked by tape and beer caps. Persevere, because when you get there and look back to the mainland you will think: "How good is this?" 
Mandalay 
There is a lovely little beach at the end of the Mandalay area that looks straight back over Airlie Beach and to the west for the sunset, which is magical. You will find Mandalay Road on the left before the big hill to Shute Harbour, approximately 3km out of Airlie. Drive to the end and when you get to the roundabout you are there. It has the big pine trees on it. Just a great thing to do late afternoon; it's only five minutes away. 

Funnel Bay (www.funnelbay.com.au)
This is our closest and easiest to access beach/bay and yet is generally pretty secluded.  Drive from Airlie Beach toward Shute Harbour and when you go over the first big hill, take the first left to Jasinique Drive then the next left and drive to the beach. 
The road looks a little rough and daunting but you will be fine, and the road and beach are for the public's use. There is a tidal creek on the eastern end of the bay, which is nice to fish in, and the beach itself is 800m long. Take some insect repellent, particularly if you would like to explore the mangroves. Again, this is a tidal beach and just as much fun at low tide exploring as at high tide, taking in the vista. A couple of fold-up chairs, beach towels and a wine would make for a magical sunset. If you have young kids and want to do a couple of outdoor days without investing a fortune I would go to one of the fishing tackle shops and buy a drag net and a couple of hand lines. On a near full incoming tide, in places like Funnel Bay, Dingo Beach, Hydeaway, Montes and Cape Gloucester, you can delight the kids by catching whiting and bream in the drag net. As locals, we get a bit complacent that these are just little fish, but for many kids they may not have seen a fish this size and you can spend hours up and down the beach catching these and having the kids pull them out of the net. You can then throw them back or use them for bait on your hand lines. 
Cedar Creek Falls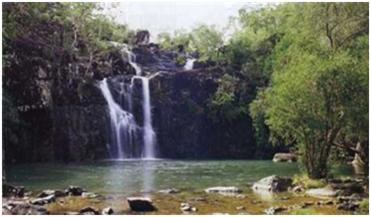 This is well worth a visit, particularly when the falls are flowing, which is likely between December and April, but beautiful at all times of the year. Drive back toward Proserpine and take the Conway Beach turnoff at Mount Julian (the falls can be combined with a trip to Conway/Wilson's Beach for the entire day, which is quite nice and certainly a different experience). About 10km along the Conway Road, take the left to Cedar Creek Falls (it is really the only bitumen left turn) and then another 3km turn right onto a gravel road to Cedar Creek Falls. Take plenty of water and some snacks and relax for the day. The falls can be swum in all year around and are generally nice and cool. Please do not jump from the top as several people, including a guy I went to school with, have died doing this and others remain paralysed. You will probably see someone jumping and think it's safe. Believe me, it's not. Take the walk to the top of the falls, though, and then walk further up the creek as there are numerous rock pools and, when flowing, these become natural spas, which are beautiful. Kids love climbing the rocks and it is good safe fun. Downstream from the falls, (on the road on the way in) is also worth a look as it is often alive with small native fish and lobbies. As a family, we take a few pieces of string and meat to catch some lobbies, which the kids love. 

Conway Beach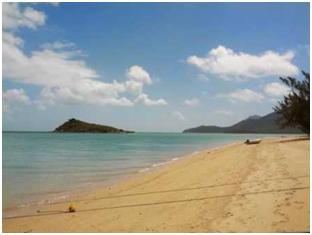 Conway Beach is another 10 minute drive, once you are back on the Conway Road and really is a must-do, particularly at low tide. There is a great little caravan park and bar called the Black Stump, which you will find if you need supplies or a chat with the easy-going locals. The beach is expansive and magnificent to walk on. As a kid, I spent most of my school holidays in this area, chasing soldier crabs (which your kids can do today) at low tide and walking for a couple of hours from Conway Beach to Wilson Beach and back. If the winds are strong, be sure to contact Conway Beach Blow kart Hire (0448 255 512), a locally owned business that allows you to rent Blow karts throughout the day. Visit their Facebook page to see some photos of the Blow karts in action!  They're a great little addition to Conway Beach and are extremely popular for families that are needing a little rush of adrenaline! Conway Beach is a lovely unchanged and natural part of the world and when combined with Cedar Creek Falls is a great affordable (free) day for the family that you will all love. Please be sun-wise though. Nothing will spoil a holiday quicker than bad sunburn or heat stroke - always wear a hat and carry plenty of water. 

Proserpine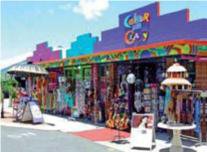 Take a 20 minute drive back into Proserpine and experience a beautiful country town. As you hit the highway, instead of turning left to go the 1km to Proserpine, turn right and drive about 500m to Trader Pete's Coffee plantation. Peter Phillips, or Trader as he was known, was one of the first business people on Hamilton Island with Keith Williams back in the late 70s. 

Trader was sailing up the coast at the age of 38 after retiring in Melbourne from a successful career in shoe retailing. He met his beautiful wife Niki, (who survives him and now does a great job of running the business) and called into Hamilton Island, and the rest is history. Trader and Niki had the first charter yacht, Banjo Patterson, on the island, which was later sold to Dave Hutchins and became the start of Fantasea Cruises. Trader Pete's is the general store on the island and several other businesses on the island are also owned now by Niki. Trader never lacked entrepreneurship and started the area's only coffee plantation, Whitsunday Gold. The processing plant is now open to the public and well worth a tour; the local coffee is excellent. 
Proserpine is a great little town. There are several hotels with great counter meals and friendly locals. I worked for years at the Metropole Hotel, in the bottle shop after 5pm each day, as I worked at LJ Hooker Proserpine from 8am to 5pm. Business was tough so we had to make ends meet with a second job. There are a couple of really cool stores in town. Visit 'Colour Me Crazy' down the laneway. Don't worry, you will find it - everyone knows it. I have a real soft spot for this store, perhaps because it's the only commercial property I have ever sold but more likely because Robyn is a great lady and has created a fantastic business that caters for a real niche in the marketplace. 

Proserpine Dam
Proserpine Dam or the Peter Faust Dam is 25km west of Proserpine or a 40 minute drive from Airlie Beach. The dam is freshwater so available all year round and has a number of great activities available. The most popular activity on the dam is water skiing and tubing. On the weekend, you will always find lots of people there enjoying themselves. Feel free to ask if you can have a ride. Again, the bank is improved by several shelter sheds, tables and barbecues - a great place for breakfast, lunch or dinner. You will notice barramundi fishing signs throughout the region all leading back to this dam - it's alive with barramundi and catches above 1m long are reported regularly. If you don't have your own boat, charters can be organised through the fishing stores in Airlie Beach and Proserpine. Another great activity is red claw fishing. Pots can be purchased from any of the fishing stores and grab some pilchards for bait and simply drop the pots near the bank in reedy areas (you will see others there) and catch yourself some great red claw for dinner or for barra bait. There isn't any size or quantity restriction, so have fun. 

To me, the best thing to do at the dam, either early morning or late afternoon is simply put your boat along the bank - mainly to the south-west of the boat ramp for a couple of kilometres, and watch the bird life and wildlife - it is truly spectacular. Several species of birds can be found, and if you drift along, you can experience these in their natural habitat. On the bank, you will see cattle and horses and sometimes wild pigs and kangaroos.