Bowen is a fantastic day trip, less than an hour from the Whitsundays. You will notice the wide streets as you enter the town. Rumour has it that Bowen was once set to be the capital of North Queensland. The beaches at Bowen on the mainland are spectacular, they are a real must to visit. There is a lovely cafe at Horseshoe Bay that is just opposite the beach. The rocks on this headland are great for the kids to climb on and you can walk around to Queens Beach but be careful with the kids as there is a nudist beach halfway around. As you enter Bowen, you will see the big hill and again there is a lovely cafe up on top called 360 Degrees. The Summer Garden movie theatre is also in Bowen and has two screens and is usually playing the latest movies.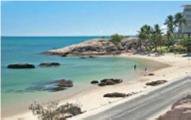 We have business interests in Townsville, so have spent recreation time there also. It's probably more than a day trip, being just over three hours each way. The Strand is magnificent, it has approximately 2.5km of foreshore walk, with a pool and water park at one end and a man-made rock pool all-tide swimming area at the other. The water park is fantastic for kids - lots of water activities and has a great big water bucket.  High above the Strand is Castle Hill. At night, the views are spectacular over all of Townsville. During the day, the road and the track, commonly known as the goat track, are really popular with bike riders (road only), runners and walkers. 

Palmer Street is known by the locals as the dining and coffee set of Townsville. It has a great feel. A must-do with the kids, I think, is a visit to the barra farm out past Kirwan. Just arrive mid-morning or late afternoon; admission, which is very reasonable, includes your rod and bait and you can just catch barra after barra. They skip across the water just like on television. The hooks are barbless so the fish are easy to unhook and throw back in; I assure you your kids will have an amazing time!  On the way, you drive past the Thuringowa water park called Riverway, which has a lovely big pool and other activities for the kids to do.   

Magnetic Island is also well worth a visit. You can either catch the ferry over or take your car on the barge. The island is completely different to the Whitsunday islands - less tropical, but the natural rock formations and beaches are spectacular. You can hire a Mini Moke and explore the island at your leisure or enjoy a meal, at the opposite end of the scale, at a 5-star restaurant at one of the new resorts. There is a swim from Magnetic Island to The Strand in Townsville each July - a great test for you. 

Townsville is also home to some really cool sporting events and teams. If the Cowboys are playing at 1300 Smile Stadium, you just have to go - the atmosphere is amazing.  Similarly, watch the Townsville Crocs, the local basketball team, playing at the stadium next to the casino. Cluden Racecourse is also a great day out, particularly if one of the teams are then playing that night. 

Mackay And Surrounding Area
Mackay is closer, about one hour and 45 minutes, and has great shopping and movies. There is a great water park near Canelands in the centre of town. The Mackay hinterland, mainly Eungella National Park, is spectacular. It is at the top of the range so always cooler, and is home to the local platypus.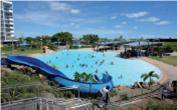 For Those Wishing To Stay A Little Longer 
Many of the locals that you see and will meet started just like you, as a holiday maker who became captivated by our area's beauty and people, and decided to stay a little longer. I have lived in the Whitsundays all of my life and I'm often asked why. 

Some of the reasons are:

It is a magnificent place to raise a family. By this I mean the health system, both the local doctors or Proserpine Hospital are first rate, and your child's entry into the world will be smooth. The schooling is grand and there are several options. There are now a number of both public and private kindergartens. There are four primary schools to choose from and three high schools. There are universities in both Mackay and Townsville, plus other major centres. So health and education, which are critical to most, are catered for. To me, safety is also important - I rarely lock my car or my house; many say I am game and will get caught shortly, but I'm not so sure! I trust people and it just seems to work out for me. The kids can walk to school by themselves or play on the beach by themselves, which is a nice feeling. 

The Whitsundays is also a great place to grow a career. While we may only have a small population, many of our population have come from the south, many having had successful careers and they bring those skill sets and attitudes with them. There is no doubt in my mind that if you do the right thing and do your best to exceed your customers' expectations - you will be rewarded. 

We are accessible - I can be in Brisbane for the day or take a direct flight to either Sydney or Melbourne. We have three airports - Hamilton Island, Whitsunday Coast and Mackay. Air travel is convenient and inexpensive. 

The shopping in the Whitsundays is considerably better than may first appear. All of the majors are here and most tastes catered for. If you would like a different retail experience, Mackay is less than two hours away. 


Last but not least is the lifestyle which ties into all of the above, particularly the first.  There is little to no traffic – how much time in the day does that save you?  Time better spent with your family.  There isn't any hassles and bustle, pushing and shoving on the street, more of a pleasant hello.  There is so much to do and choose to go out and do things, creating memories that their children and loved ones will remember for a lifetime.  I remember one Sunday morning picking up my friends Colin and Kim –we launched our boat, checked our crab pots, got three muddies on the way to South Molle Island to collect Kim's sister. We saw whales in the passage on our way to Mackerel Bay. We started a fire, or perhaps Colin did as fires weren't allowed on the beach and put a pot of salt water on to cook the crabs. I went for a quick spear fish and got a trout and a cray fish. So for lunch, on a beautiful deserted Whitsunday beach we had mud crab, fresh trout and crayfish. Colin and I have formed a lifelong friendship, quite possibly as a result of that typical Whitsunday day.