Other Amazing Trips And Experiences
Hire a helicopter for as little as 15 minutes and fly over Airlie, Cannonvale, the National Park and Shute Harbour; this will give you a wonderful perspective of the uniqueness of our area. Stay up a little longer and ask the pilot to go down the Proserpine River and see the crocs sunning themselves on the banks. Contact Helitours Whitsunday on 4946 9673.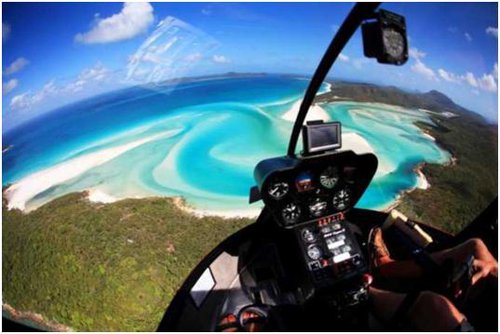 Take a sea plane to Whitehaven Beach. It is a magnificent sense of arrival, flying over the island, seeing Hill Inlet and the white silica sands of Whitehaven. The pilot lands in the water and noses the plane up on the beach and organises you a lovely picnic.  As part of the Whitehaven flight or separately, go a little further to the world renown Heart Reef, and fly down the "river" over the Cruise Whitsunday's pontoon and see one of the seven natural wonders of the world clearly from the air. Contact Air Whitsunday on 4946 9111. Don't miss whale watching in the winter months - the humpback whales and their calves are generally plentiful in our waters and you would be unlucky not to see one. We have stopped for hours and watched them frolicking. We have come back from the reef fishing on a glassed out, calm day and had to take the boat off autopilot, because there were too many whales on the surface.