Pioneer Rocks - can be seen from Airlie Beach and is well worth a fish. There is good fringing reef for coral trout and a lot of the area's mackerel are caught here. 
The next little island around is Almora Rock, once again good for mackerel or trout. I have done lots of snorkelling from the rock south to Coral Beach - there are coral bommies every 50m or so all the way to Coral Beach.   
If you go to the left when leaving Abell Point Marina, the first headland is Bluff Point and at the bottom right-hand side there is a tidal creek that is well worth a look, and it's worth dropping in a couple of crab pots. The crabs aren't usually plentiful but they are big. It is tidal, so access slowly and only at mid-tide and above, and make sure you are out in time.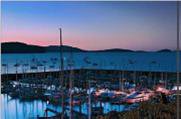 Double Cones are the islands due north from Airlie Beach and are also a great trip on a nice day. Lots of mackerel are caught on the southern tip. 

There is some good fishing from the mainland though. Lots of big barra have been caught from the Abell Point Marina wall – lots! The public pontoon next to the boat ramp is also worth a fish with the kids, as is the fishing pontoon at Shute Harbour. 

In the wetter months, prawning is also good fun. Most of the locals go to New Beach, which is a short boat trip across the bay from Conway Beach. Ask around for one of my favourite fishing mates, Mayor Marco (officially known as Mario Demartini, the ex-mayor). Marco has fished, crabbed and prawned the area more than most and is a delightful guy. When we originally launched the Whisper Bay development, Bob Hawke came up and spoke at the opening and introduced Mario as Marco - Marco has sort of stuck with me ever since. Mario is from a long-established local family, and his wife Gloria has been an amazing contributor to the community, including decades at the local kindergarten and community organisations. Ask Mario about his reddie hole at Pinnacle Point - you never know, you might have more luck than I do with him sharing his spots! For some really good fishing tips, go and see Kevin Collins at Fish D'vine at the bottom end of town or Bob Spees at the boating and tackle shop next to BP. 

A popular yet different way to visit the islands is by kayak. These are either for hire or you can do a group tour. If you hire one yourself, you can camp on the island. The camping equipment can also be hired. Call Salty Dog Kayaks on 07 4946 2388.