PRD Port Stephens High Achievers
PRDnationwide have recognised the top performers and leaders in the network with their annual gala dinner.

The gala dinner was held at the conclusion of a two-day program of forum and conference events, with the winners being acknowledged in front of more than 260 of their industry peers.
PRDnationwide Chairman & Managing Director Tony Brasier praised the event, commenting that the recipients of each award had shown initiative, exceptional results and high-level customer service during the last 12 months.
"The real estate industry is highly competitive and constantly changing. To rise to the top of our industry requires hard work, extensive knowledge of the property market and the ability to adapt to market shifts whilst delivering on high levels of client service," he said.
"We commend many of our directors and principals who were recognised for their 10, 15, 20, 25- and 30-year continuous Service Award to PRDnationwide clients and the outstanding contribution they have made over the years."
We celebrated a fantastic evening at the annual PRDnationwide Awards.
Our office was honoured to receive some great awards including: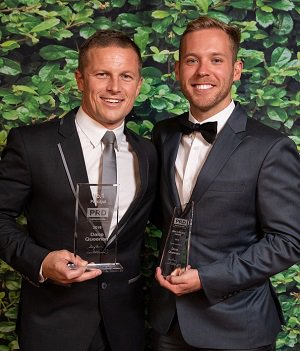 No.3 Selling Office Australia wide for PRD
Platinum Office Award
Dane Queenan - The Number 1 Selling Principal Agent Australia wide for PRD and a High Altitude Sales Award
Rebecca Dean - The Number 4 Salesperson Australia wide for PRD and a High Altitude Sales Award
Bruce Gair - was commended for his hard work and dedication to PRD over the past 20 years receiving the John Harvey Award as well as receiving a Bronze Sales Award
Graeme Schmarr - Bronze Sales Award
David Schmarr - Bronze Sales Award
A big Congratulations to all of the award winners and a big thank you to PRDnationwide for a beautiful evening, a great time was had by all.
Read more in this Port Stephens Examiner feature.