To what extent will the 2032 Brisbane Olympics contribute to our housing supply?
One year has passed since the announcement of Brisbane's successful bid to host the 2032 Olympic Games. In conjunction with the announcement, master plans and developments have been detailed in State, Federal and Local Government budgets. The games are set to deliver $8.1B in benefits to Queensland, which include $4.6B in tourism and $3.5B in social improvements such as health and community benefits.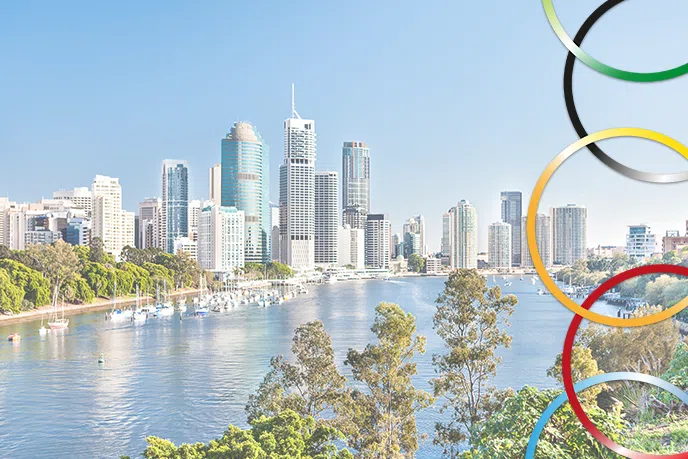 From a real estate perspective, two questions are proposed:
To what extent does hosting the Olympics impact property prices and how great is the multiplier effect?
Does hosting the Olympics add to housing supply, and if so, to what extent?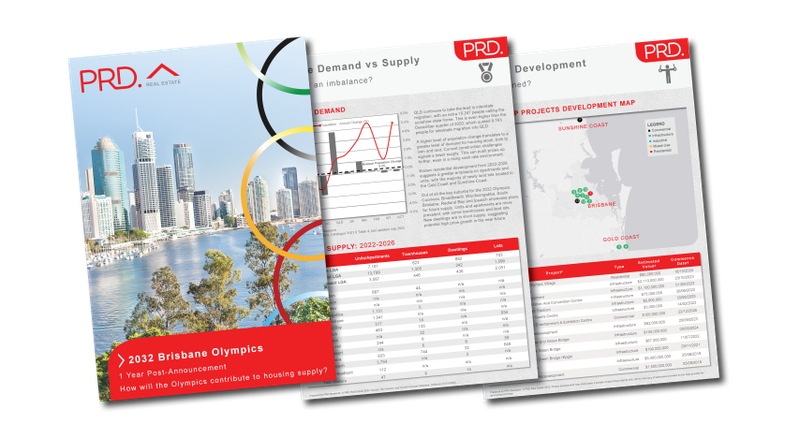 Hosting the Olympics will increase employment opportunities of approximately 91,600 full-time equivalent jobs. Job creation is one of the main recipes to property price growth, as it increases the public's purchasing power and ability to enter the market. Further, the Olympics attracts population growth into the region, increasing demand for housing. Combined with the current lag in supply, such an imbalance can lead to further property price growth.
Taking a simplified average approach between all three international and/or sporting events (Brisbane Expo 1988, Sydney Olympics 2000, and the G20 Brisbane Summit 2014), median house price growth was 14.3% in the year post-event.
Applying this to 2022# median house prices will result in many key 2032 Olympic Games suburbs becoming $1M areas, such as Woolloongabba, South Brisbane, Herston, Spring Hill and Twin Waters (Sunshine Coast). Many others come close, such as Tennyson and Broadbeach (Gold Coast).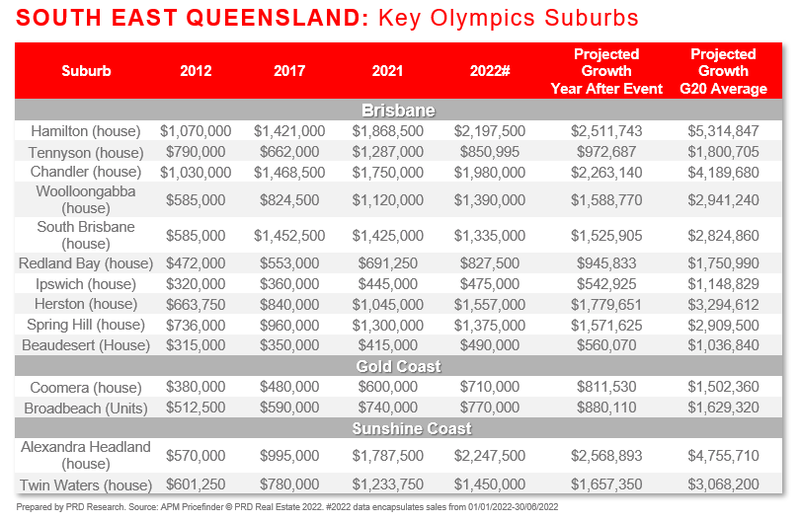 Between 2003 and 2015, which captures the years prior to the 2014 G20 Summit and the year after, median house prices in South Bank and surrounding suburbs grew by an average of 111.6%.
Applying this growth to key 2032 Olympic Games suburbs would see suburbs such as Hamilton and Chandler breaking the $4M median price mark. Extremely affordable areas such as Ipswich, Redland Bay and Coomera would break the $1M median price mark.
The Olympics had long-term affects to previous host cities, with a strong tendency for housing supply and demand to increase, leading to healthy price growth. This is often due to athletes' villages in main CBD areas (Sydney, Tokyo and Beijing being key positive examples) becoming vacant and serving as build-to-rent and market accommodation for a variety of owner-occupiers and investors. The issue with the Olympics and other international games is that a lack of planning and management can lead to an underutilisation of new supply, as seen in the Rio and Athens Olympic Games.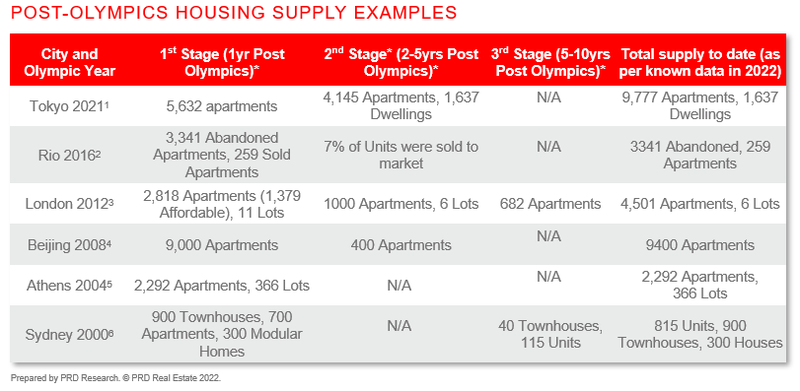 In preparation of the 2032 Olympic Games, there are plans to repurpose The Northshore Hamilton Priority Development Area (aka The Village). This will catalyse $500M in private investment and create 1600 construction jobs.
Accommodation supply proposed in preparation of the 2032 Brisbane Olympic Games:
Two hotel towers of 181 apartments Woolloongabba – Olympic Stadium site
182-room hotel development – Mooloolaba
196-room hotel tower – Manors Gate group Broadbeach
252 apartments - Signature Broadbeach Project
10,000 bed villages in Athletes Village – North Shore Hamilton
The Queensland State Government has stated a desire to utilise the 2032 Olympic Games in accelerating the delivery of existing long-term plans on the Northshore-Hamilton area, amending the plans to include new residential, commercial, retail and mixed-use development opportunities. Unlike the 2000 Sydney Olympic Games, there are currently no plans to use modular or relocatable housing.
Hosting the Olympics can be a vehicle for residential supply, evident in past examples. Known and current 2032 Brisbane Olympic Games residential supply needs further development when compared to previous Olympics. Now is a golden opportunity to harness the potential of creating a well-informed housing supply legacy that targets a range of demographic needs. Queensland can aspire to what other Olympic Games delivered for housing supply.