PRD Mobile Agent – Infinite Possibilities
Imagine if you could harness the strength of one of Australia's leading real estate franchises without the traditional up-front costs?
Now you can... Introducing PRD Mobile Agent!
PRD Mobile Agent is a flexible and cost-effective new franchise model. Unlike traditional models, it allows a single person to operate as a virtual selling agent in a given location without the need of a 'bricks and mortar' office, and thereby maximising your personal returns!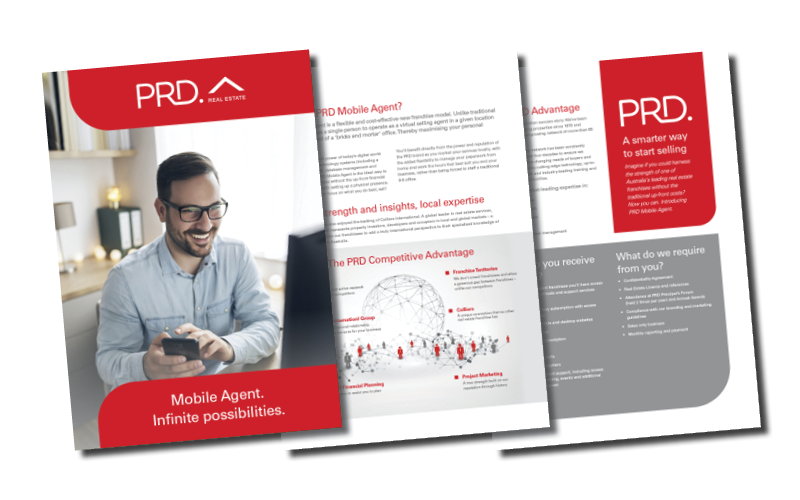 Enquire about PRD Mobile Agent
Access a powerful suite of tools and support
As a PRD Mobile Agent franchisee, you'll have access to a powerful suite of tools and support services including:
CRM – PRD Pathway subscription with access to Agents Toolbox
Recently upgraded, modern and optimised website
Email address
REIP base paid subscription
Access to PRD branding and marketing collateral
PRD research reports
Preferred suppliers
Business Consultant support, including access to mentoring, training, events and more
PRD Dashboard

By harnessing the full power of today's digital world and PRD's proven technology systems including market-leading CRM, database management and marketing tools, the mobile agent position is the ideal way to establish your business without the up-front financial outlays associated with setting up a physical presence. You are free to focus on what you do best: sell. 
You'll benefit directly from the power and reputation of the PRD brand as you market your services locally, but with the added flexibility to manage your paperwork from home, and work the hours that best suit you and your business, rather than being forced to staff a traditional 9-5 office.
We look forward to answering any questions you have.

PRD Mobile Agent Brochure.pdf