NEW RELEASE: Affordable & Liveable Property Guide 2nd Half 2020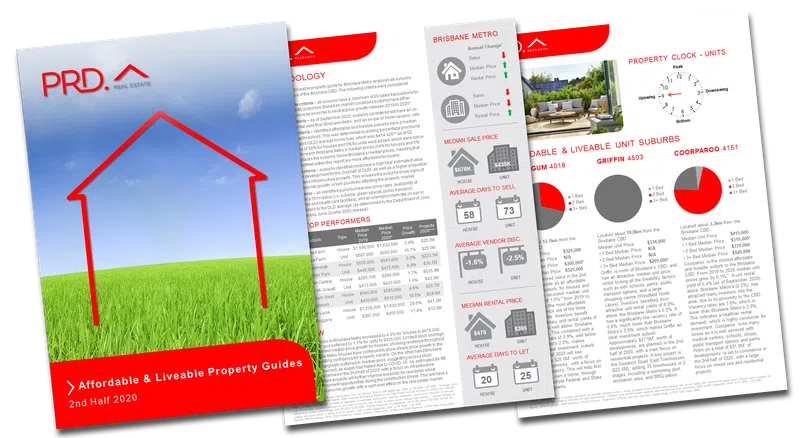 The PRD Affordable and Liveable Property Guides 2nd Half 2020 are available for Brisbane, Sydney, Melbourne and Hobart. These guides provide valuable insights and highlights of the market and report on many key indicators to create a holistic picture of property conditions in each capital city.
There were several key findings in the 2nd Half 2020 reports:

The Melbourne Metro property market remained stable amid COVID-19 restrictions and the second lockdown, with median price growth of 1.5% for houses and 2.2% for units between 2019 and 20201. Although this may seem to be a more subdued level of growth for Melbourne Metro, under current COVID-19 conditions it showcases market strength. Furthermore, the Melbourne Metro market is now more affordable compared with 2018, which makes it an opportune time for first home buyers to enter the market.
 Hobart Metro recorded the lowest vacancy rate in September 2020, of 0.6%. This is significantly lower than the Real Estate Institute of Australia's healthy benchmark of 3.0% and signals a return to the pre-COVID-19 vacancy rate environment (also 0.6% in December 2019). That said Brisbane Metro showed the greatest improvement in vacancy rates, trending down to 2.0% in September 2020, which was even lower than pre-COVID-19 times (2.9% in December 2019). This dispels investor concerns regarding an oversupplied rental market in Brisbane.
Suburbs selected as affordable and liveable were equally spread in the Melbourne Metro and Hobart Metro, in terms of geographical location compared with the CBD. However, they were concentrated in the south-west of Sydney Metro and on the northside of Brisbane Metro, indicating that residents in Melbourne and Hobart have a slight advantage.
Hobart continues to be the only capital city where residents must sacrifice affordability for liveability. Residents will need to be prepared to pay a premium of 92% for houses and 30% for units, above the Tasmanian (TAS) average home loan, to secure a highly liveable suburb. These premiums are much higher than the percentage required to purchase a median-priced property in Hobart Metro (62% for house and 22% for units).
Sydney proves to be the most affordable city for liveability, where residents can purchase a house in a liveable suburb for 70% less (premium added to New South Wales average home loan) than the premium needed to purchase in Sydney Metro. Melbourne Metro is the runner up at 41% less, and Brisbane is third at 26% less.
View all the Affordable and Liveable Property Guides 2nd Half 2020