Is Australia Affordable?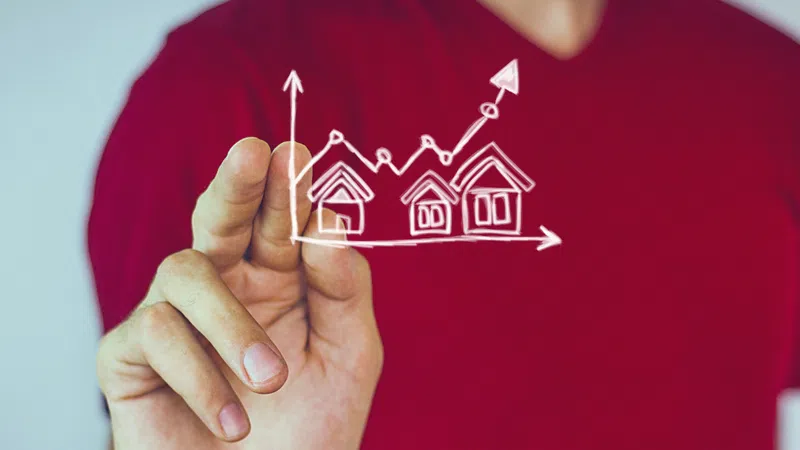 From the Desk of the Chief Economist
Housing affordability is once again at the forefront of debate. This is due to a seemingly sightless end to our increasing housing prices and record-high home loan mortgage debt.
However, this is not an Australia-only phenomenon, but rather a worldwide one. Other countries and capital cities around the world are reporting record-breaking house price growth. Almost all lead by a fiscal government policy designed specifically to assist with access to home-ownership.
How do we compare internationally?
To what extent are we unaffordable?
How have other Governments around the world, particularly the G10, addressed this issue?
Those are the questions we will address further below.
Global House Price
On a global scale, when median house prices are indexed (against the price of the market basket), Australia is not alone. Other countries have also experienced a sharp increase in their house prices. Furthermore, based on indexed median house price value only, Australia is more affordable when compared to the UK, USA, and aggregated G10 countries.
In 2021 Australia recorded 177 points in the global house price index. The UK and USA recorded 487.3 and 266.7 points respectively, higher than the aggregate G10+ countries' reading of 262.3 index points. Canada is the most affordable, at 118.2 index points.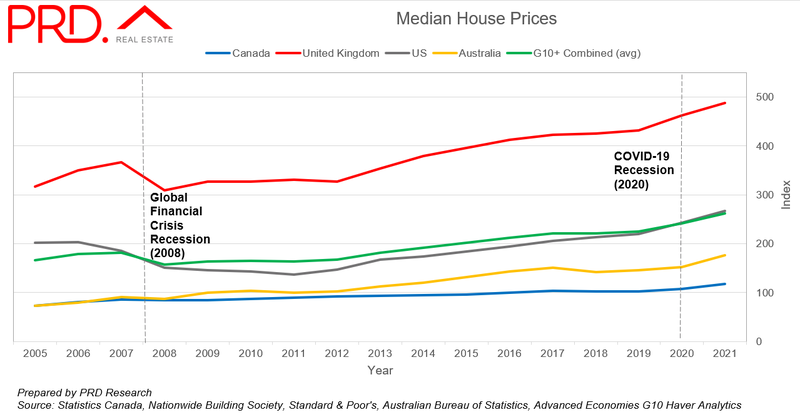 This may come as a surprise. Particularly when Australians are noting record-breaking sales and reporting a high level of competition in the market. The term "priced out" is commonly used in the media.
In 2021, Australia did record the highest annual increase in house price growth, of 16.0%, when compared to other global G10+ countries. Canada and the USA also recorded strong annual house price growth, of 9.3% and 10.1% respectively. Interestingly the UK recorded the lowest annual house price growth, of 5.4%, but continue to be one of the most expensive countries in the world.
From an annual growth perspective, Australia has had the highest increase in unaffordability. However, from an indexed dollar value perspective, our property market remains globally affordable, which explains why it remains attractive to foreign investors.
Global Cash Rate
COVID-19 saw some economies cut their cash rate to historical record lows. The Reserve Bank of Australia did just this, to a historical low of 0.1%, and have maintained it for 10 months.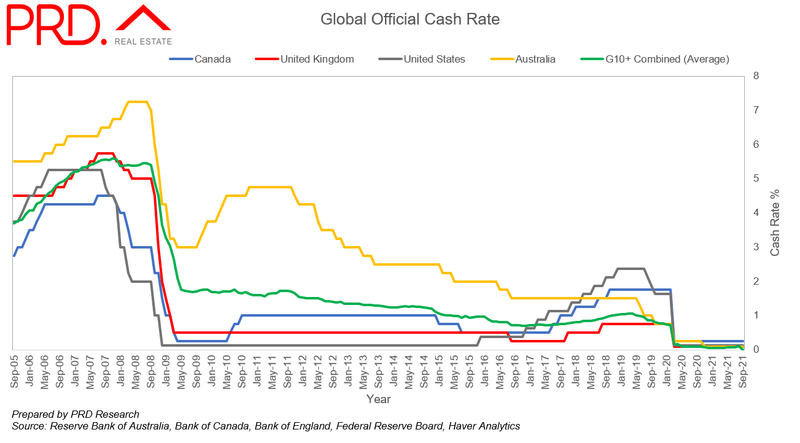 Australia is not alone in this journey. Canada was the first to drastically cut its cash rate in March 2020, from 1.75% (February) to 0.25%. At the same time, the United Kingdom (UK) cut their cash rate from 0.75% to 0.1% whilst the United States of America (USA) went from 1.625% to 0.125%. By comparison, Australia cut its cash rate from 0.75% to 0.25%.
Canada, the UK, and the USA have maintained these cash rate levels to date, whereas Australia cut further to 0.1% in November 2020. As of September 2021, all G20 countries recorded historical-low cash rates to ensure a low and stable borrowing cost environment throughout the COVID-19 economy recovery period.
Cash rate and Median House Price
The Real Estate Institute of Australia (REIA) reported a decline in the Home Loan Affordability Indicator, from 29.8 index points in the June quarter of 2020 to 28.2 index points in the June quarter of 2021. An increase in median house price is a factor, with Australians committing to higher debt amounts – led by owner-occupiers.
On the surface, it seems that there is a direct causal relationship between the cash rate and the median house price. Many believe that this is the main cause for Australia's median house price to spike, which when plotted on a graph is plausible.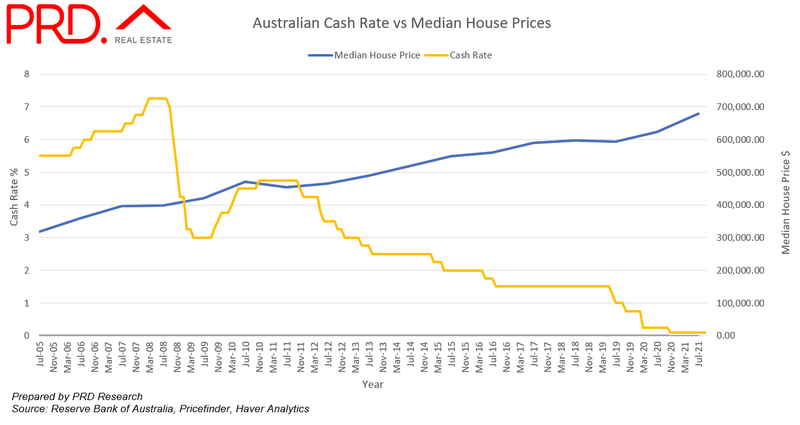 However, this is not necessarily the case. Australia's median house price increase was due to a combination of factors, the crux of it being complementary monetary policy (low cash rate) and fiscal policy (government schemes and grants that targets increasing access to homeownership). An increase in household income due to forced changes in lifestyle (i.e less travel and entertainment), a more volatile stock market, and residential construction constraints (less supply) adds to the mix of reasons.
Therefore, "the call" for the RBA to increase the cash rate does not immediately solve the issue. If anything it will lower asset values and increases borrowing costs in a time where wage growth is considered low.
Addressing Housing Affordability Issues
Price movement is dependent upon demand and supply factors. Australia is experiencing an imbalance at present, whereby demand is outpacing supply.
Historically, up to December 2019 (due to available data on a global scale) and based on the number of houses supplied (built), Australia has shown a steady pattern in housing supply.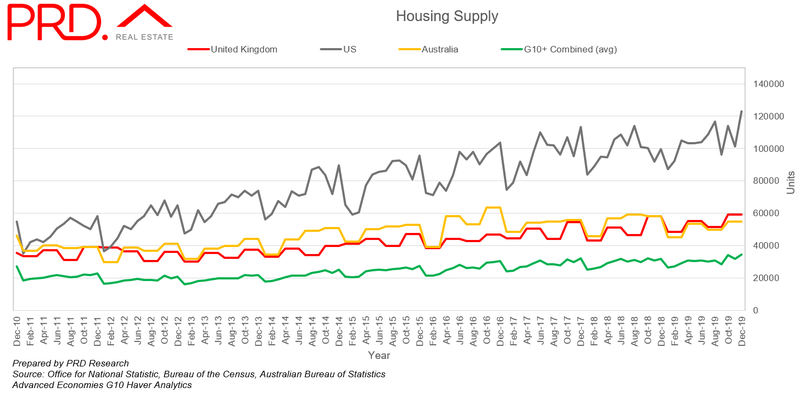 Australia's housing supply trends are on par with the UK and the number of houses built is much higher than the aggregate G10+ countries. The USA leads in the number of houses supplied (built), and have shown a sharp increase in recent years.
That said, Australia's housing supply saw a -5.4% decline between December 2018 and 2019, whilst the aggregate G10+ countries saw a growth of 8.7%. We are officially severely undersupplied, with the number of houses built in Australia between December 2019 and March 2021 declining by -25.8%.
Federal and State Governments in different countries have introduced multiple fiscal policies to address property ownership, however, these are designed to assist society to enter the market and increase access to homeownership.
In Australia, this includes targeting first home buyers and single parents, allowing them to become homeowners with just 5% or 2% deposits. Canada has a similar policy – the First Time Home Buyer Incentive offers 5 or 10% of the purchase price to be put toward a down payment. First home buyers in the USA can access Federal Housing Administration Loans, with a down payment as low as 3.5% of the purchase price.
While fiscal policies are welcomed, they also create extra demands.
In an undersupplied market this assists in pushing up prices. As a consequence, since the incentive on offer remains static, the house buyer must commit to a higher mortgage debt amount.
Moving forward
According to the REIA, the proportion of family income needed to meet loan repayments increased from 33.5% to 35.4% between June quarter 2020 to 2021.
Before the June quarter of 2021, the proportion of family income needed to meet loan repayments remained largely stable, as banks followed RBA's cash rate cuts, offering historical low fixed home loan rates for both owner-occupiers and lower variable investment rates.
However, this "saving grace" is fading, overtaken by an imbalance in high property prices and low wage growth. Not only that, banks are not bound by law to follow the RBA's cash rate movement and can increase the home loan rates at any time.
As always, the correct policy and strategy are key.
On Wednesday 6th October the Australian Prudential Regulation Authority (APRA) tightened lending rules by increasing the "serviceability buffer" that banks use to assess loans, in a bid to slow aggregate housing credit growth.
Borrowers' ability to meet their loan repayments will now be expected to be assessed at an interest rate that is at least 3.0% above the loan product rate – a 0.5% increase on the previous buffer (2.5%), or at the floor rate of 5.09%, whichever is higher.
This is the first move made by a regulatory authority in Australia to target the "property boom" and address home loan affordability issues; by increasing serviceability certainty should there be an increase in home loan rates.
It makes sense, however to what extent this will impact first home buyers and investors is yet to be seen. There are also concerns that APRA's efforts may sap broader market confidence during Australia's economic recovery.
The next 3 – 6 months will be crucial, especially as our international borders plan to open before the end of 2021. It will be interesting to see if and how our Federal Government will respond to market changes in the Federal Budget 2022.