From the Desk of the Chief Economist: Greater Brisbane Housing Supply: Where Are The Houses?

Where are the future houses hiding in Greater Brisbane? It may seem like a straightforward question, but it is acknowledged by many as a wicked problem.
With a projected high rate of growth, the Greater Brisbane region could surpass three million residents by 2028. Moreover, the Greater Brisbane area could account for over half of Queensland's population during this decade.
So, where are the houses to support our population growth?
Greater Brisbane Market Trend
Theory tells us as cash rates increase, property prices drop. However, reality doesn't always align with this, and the extent of price fluctuations may vary. Prices in Greater Sydney have dropped since the first cash rate increase in May 2022, as did prices in Greater Melbourne. However, Greater Sydney declined at a steeper level compared to Greater Melbourne.
Greater Brisbane defies theory, holding relatively resilient throughout the RBA's 12 cash rate hikes, and even showing a slight recovery as of June 2023.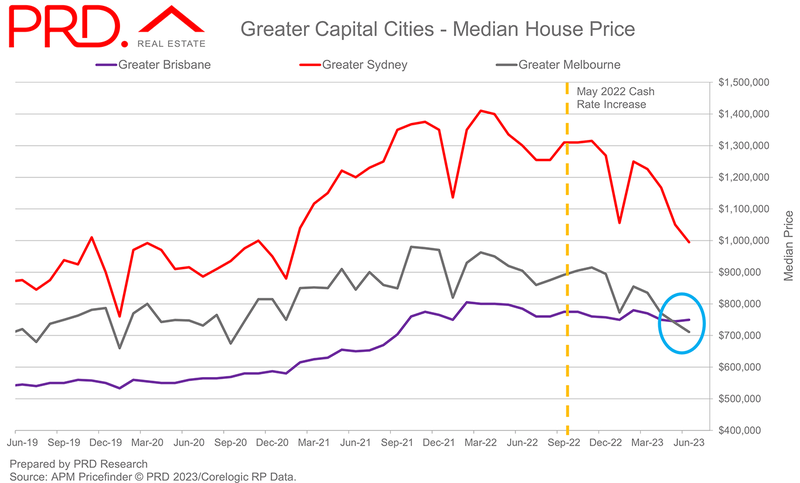 The disparity in market reactions can be attributed to two main factors: the rule of demand and supply (current and projected), and the initial price point of the area, which determines affordability for prospective buyers.
Greater Brisbane had a starting price point that was, and still is, much more affordable when compared to Greater Sydney and Melbourne. Greater Sydney's median house price was approximately $1.4M before the May 2022 cash rate hike, which was higher than Greater Brisbane's approximate of $800,000. Thus, there is still room for property prices to grow in Greater Brisbane.
Although demand in all capital cities is increasing, Greater Brisbane was the only recipient of interstate migration during COVID-19. This took the state by surprise and puts the supply and demand deeply out of proportion, resulting in a housing crisis. The Greater Brisbane area is now desperately trying to play catch up, as demand is predicted to outstrip supply for the next ten years, which will put a constant pressure on house prices.
To The Future: Do We Have Enough Housing Supply?
As of June 2023, the data tells us a total of 749 houses, 2,153 townhouses, 18,250 units, and 10,863 land lots are scheduled to commence construction this year.

However, due to construction costs and potential challenges such as shortages in material and labour, financing requirements, or local government red tape, not all projected supply may be built. The commencement rate (i.e., projects not being 'deferred' or 'abandoned') for dwellings and units is quite low in Greater Brisbane, 56.6% and 59.5% respectively. The highest is land lots, with an 89.8% commencement rate. But this does not provide immediate housing supply.
Brisbane has the greatest number of townhouses, dwellings, and units planned, but not always the highest commencement rate. Logan has the highest commencement rate for townhouses (88.9%) and the Redlands has the highest commencement rate for units (78.8%). Moreton Bay has the highest number of lands lots planned (3,457 lots), but Ipswich has the highest commencement rate of 98.9%.
Moving Forward
To accommodate the medium-series population projection of 3.1 million people by 2033 in Greater Brisbane, the Queensland State Government announced a review of its Southeast Queensland Regional Plan as it works to find more land to develop for houses. Brisbane City Council is boosting density in key inner-city and underused suburban land.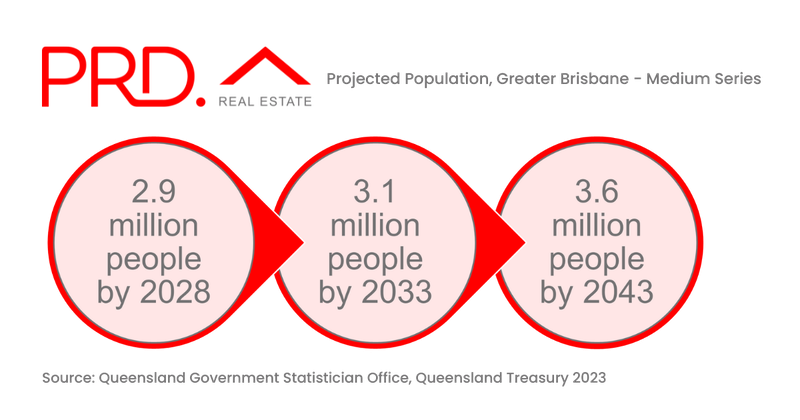 So, where will we accommodate our growing population?
Apartments make up the top 10 and 20 (based on estimated value stated by the developer) confirmed projects across Greater Brisbane. Most are built in Brisbane City, with a mostly Western corridor concentration. These include Toowong, Hamilton, Bowen Hills, Fortitude Valley, Milton, West End, Woolloongabba, Kangaroo Point, Indooroopilly, and East Brisbane. This is followed by Ipswich, specifically apartments in North Ipswich and land lots in Springfield.
Brisbane confirmed townhouses are in Richlands, Mackenzie, Sunnybank Hills, Everton Park, and Rochedale. Other confirmed townhouse developments are located in Shailer Park, Browns Plains, and Loganholme (Logan), Caboolture (Moreton Bay), and Redbank Pains (Ipswich).
Will this amount of scheduled supply be enough? The simple answer is no, but this is what we must work with. The next step involves developing innovative strategies to introduce more housing options to the market. This may involve embracing a variety of property types, some of which might be unfamiliar to us at present.