HomeBuilder Scheme will Revive First Home Buyer Activity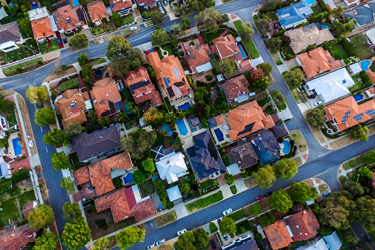 From the Desk of the Chief Economist – 4th June 2020 
Treasurer Josh Frydenberg declared the Australian Economy is now in recession, as national accounts recorded -0.3% growth in the March quarter. Annual growth held steady at 1.4%, however the Treasurer expects that the June quarter will record further negative growth, due to the short-term shutdown of the Australian economy during COVID-19. A common technical definition of a recession is two consecutive quarters of negative growth, and with this current forecast the Federal Government has released a new scheme to stimulate the economy.
The HomeBuilder Scheme was announced yesterday as follows:
This grant is on top of existing State and Territory First Home Owner Grant programs, stamp duty concessions and other grant schemes, as well as the Commonwealth's First Home Loan Deposit Scheme and First Home Super Saver Scheme.
It applies to singles earning less than $125,000 and couples on a combined income of under $200,000. More than 80% of households should fit within this income test.
If building a new home, it must be worth less than $750,000, including the land, and must be a principal place of residence.
If planning to renovate an existing property, it must worth less than $1.5 million.
Total renovation spending must be more than $150,000 and no more than $750,000.
Not available for investment properties and owner-builders, nor companies or trusts, those who are not Australian citizens or people under 18 years of age.
Building contracts need to be executed between 4 June and 31 December 2020, and work must start within three months of the contract date.
The renovation must be "to improve the accessibility, safety and liveability" of the home. It can be used for kitchen and bathroom renovations carried out by licensed contractors but cannot be for used additions such as swimming pools, granny flats, tennis courts, outdoor spas and saunas, sheds or garage. Appropriate renovations must be directly connected to the principal place of residence.
The grant will be paid when you make your first progress payment.
Dwelling investment is expected to decline by approximately 20% in the June quarter, and the HomeBuilder Scheme is designed to support residential construction. Although the scheme has been compared to the controversial "pink batts" scheme that occurred as a result of Kevin Rudd's stimulus grant in the Global Financial Crisis, the HomeBuilder program is promoted as one with a tighter eligibility criterion and one with scrutinised supervision by State and Territories.
First home buyer activity in Australia has gone from strength to strength recently, with subdued capital growth in 2019 continuing to provide a platform for buyers who have been saving on the sidelines, preparing to purchase their first home. Nationally, an increase of 23.1% in first home buyers has been recorded in the 12 months to Q1 2020. Nearly every State and Territory recorded double digit growth (with the exception of South Australia which still recorded a solid 8.7% increase). This suggests there will be a strong appetite for the HomeBuilder program from first home buyers, who will also be eligible for other State grants and concessions.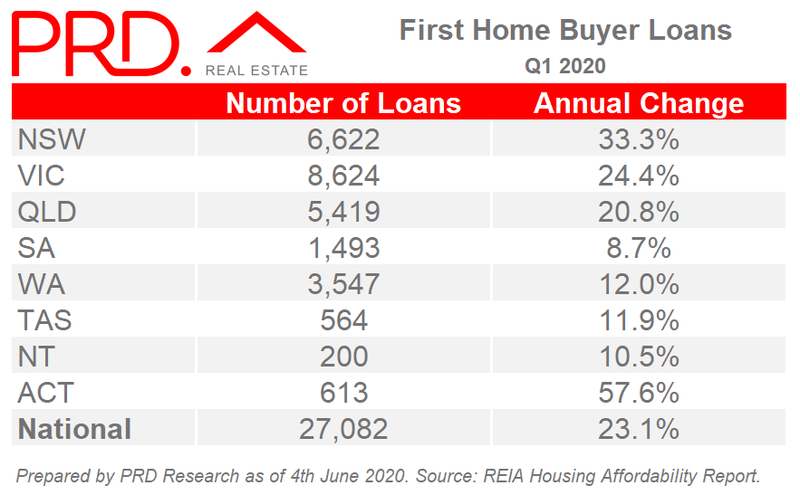 The Federal Government has estimated that the HomeBuilder Scheme will cost up to $688 million, and approximately 27,000 grants will be awarded. Based on this, Master Builders Australia predicts the program will be used for $10 billion in building activity, supporting the viability of 368,000 small builders and tradies, which in total employs approximately 800,000 people.
It is estimated that every $1 invested in home building activity provides $3 to the wider economy, as there is a snowball effect which draws in other businesses such as to cafes, pubs, and vehicle dealerships that those in the building industry frequent, as well as more direct links to building and construction supply businesses.
There are downsides to the HomeBuilder Scheme:
The average "mum and dad" investment property builders will miss out, which also contributes to new housing stock.
The minimum threshold of $150,000 can be considered quite high, which means those wanting to renovate a small part of their house (for example a $50,000 renovation of a kitchen, or deck) will miss out. This does have a spill-over effect on number of hours / weeks that a tradie can work.
A $25,000 injection into a $150,000 renovation does help, however it will cover just a little over 15% of the total cost at most.
Owner-occupiers in Australia's largest population two centres, Sydney and Melbourne, may struggle in some circumstances to qualify given high asset values in those cities.
This program is also designed to boost construction trade work, so DIYers and owner-builders will also be ineligible for the program as work must be carried out by a licensed builder.
The true impact of the HomeBuilder Scheme on the Australian economy remains to be seen, as we await its rollout and examples of those who do partake in receiving the grant. That said Australia is one of the few G20 economies introducing such a scheme during COVID-19, and at a fast pace. The HomeBuilder Scheme has come at the right time, especially with many in the building and construction industry seeing forward work for the next 6-12 months evaporating.
For more information about the HomeBuilder grant, please go to: HomeBuilder Fact Sheet.
For further information or to discuss any items regarding COVID-19 and its impact on the property market, please do not hesitate to contact me via email at astimardiasmo@prd.com.au.