The house built for a cure has sold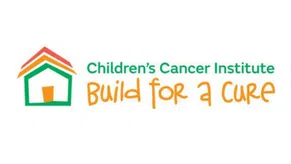 Following a competitive and nail-biting auction, the Build for a Cure house today sold for $783,000, where proceeds will be donated to Children's Cancer Institute funding vital medical research to cure childhood cancer. With seven registered bidders, five active bidders, with 16 bids above the reserve, the Build for a Cure home, built and fully furnished in Glenmore Park, was purchased by a lucky family who can now call the four-bedroom, two-bathroom house a home.
New owner, Rosemary and son Stefan Dorakay said: "This is just so incredible and so exciting. We drove past during the build, seeing all the tradies working so hard – we never thought at the time we would be its first owners. It was a whirlwind auction and it came down to the last $500. We're thrilled to have bought a house that will have such a positive impact on childhood cancer," said Ms Dorakay.
The auction was abuzz with activity as a huge crowd descended upon 59 Forestwood Drive, Glenmore Park just before of the 2pm kick-off time. Among the serious bidders vying for a piece of Sydney's hotly contested western real estate, were families of the partners and suppliers involved in the significant build.
PRD real estate agent, Daniel Latty said: "This house is phenomenal. Not only do we have a luxury family home, but the fact that it has sold fully furnished to such a high calibre is not something the Penrith market has seen before, so the lucky new owners have really hit the jackpot with this unique house."
Auctioneer Damien Cooley said: "Today's incredible sale is the result of a combination of hard work from all who stepped foot on this parcel of land. What the listing agents, PRD Penrith, achieved in balancing the importance of the cause and doing their job as real estate agents, is truly amazing."
Children's Cancer Institute Executive Director Professor Michelle Haber AM said: "The Build for a Cure house is an extraordinary gift to Children's Cancer Institute, marking 30 years of dedicated medical research to find a cure for childhood cancer."
"I am thrilled that Children's Cancer Institute is the beneficiary of Build for a Cure, a wonderfully innovative project, and I am blown away by the generosity of our partners who have made this happen. This ground-breaking campaign will raise much-needed funds that will take us a step closer to curing childhood cancer. It's not if, it's when."
The proud new owners can now look forward to moving in and enjoying their lavish four-bedroom, two-bathroom 'Havana One' home which was donated by McDonald Jones Homes and built in partnership with Austral Bricks. The new home sits on 500m² of land in Glenmore Park donated by Wearn Brothers Group and is fully furnished by Freedom, with kitchen and laundry appliances by Electrolux and home entertainment by Panasonic.
Also supporting Children's Cancer Institute's Build for a Cure project was McDonald Jones Homes' ambassador and Australia's favourite chippy, Scott Cam, The Block's 2012 winners Brad and Lara Cranfield and multi-winning auctioneer Damien Cooley, as well as celebrity interior stylist Jason Grant, all lending a hand and working on site.
In total, the Build for a Cure house comes with more than $127,000 worth of upgrades to the standard Havana One design, more than $72,000 worth of furnishings and more than $4,000 worth of bonuses including 12 months of garden services thanks to The Lawn Ranger, six months' worth of cleaning thanks to Scrubb.com.au and even a $500 Woolworths voucher to fill the fridge.
It took a team of more than 100 volunteer tradies and support staff, working around the clock to create the Build for a Cure house and all real estate services were kindly donated by PRD Penrith.