Last Tourism Zoned parcel of land undeveloped in The Whitsundays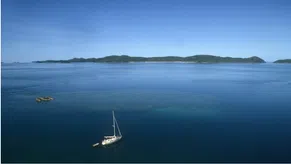 Funnel Bay's "Lot 300", the last parcel of freehold water frontage located on Australia's Great Barrier Reef Marine Park and situated between Mandalay Point and Pioneer Point, is the biggest Tourism Zoned parcel of land on the mainland and is the only parcel remaining undeveloped. It is for sale, listed exclusively by PRD Whitsunday.
A unique parcel of 13 hectares of rare Great Barrier Reef Marine Park frontage on Coral Sea, home of Whitsunday Islands.

Property offers over 500 metres of absolute waterfront and is zoned for residential and tourism developments

Opportunity to join Australia's iconic tourist destinations similar to Hamilton Island

Located 5km from the regional centre of Airlie Beach and 10km from the world famous Shute Harbour

"The 13 hectares of rare waterfront is exclusive in both opportunity and location," said PRD Whitsunday Project Development Manager Michael Hanisch.

"The site contains an approval and town planning designation that could see it developed for one of Australia's greatest house sites or could be Airlie Beach's last waterfront suburb. The views will never change."

As the site is in the same zone as the Port of Airlie and Hamilton Island it could be developed as the f i n a l waterfront suburb/precinct of the Whitsunday mainland.

"Airlie Beach is one of Australia's most finite property markets," said Hanisch. "Thanks to constrictions of backing onto Conway National Park and fronting onto the Great Barrier Reef Marine Park, it is hard to find land that is not national park or environmental reserve, let alone undeveloped and on the waterfront. Airlie Beach is ultimately a 1.5km strip of Freehold Land between the rainforest and reef, both protected by the commonwealth government from any intrusion of further development."
The site is located 500m from the award winning Whitsunday Aviation Village Estate (WAVEs). This estate is built around the Whitsunday Coast Airport that has both commercial flight operations as well as facilities for the use of private aircraft. The WAVEs is one of the only estates in Australia that allows for private housing to be included as part of the airport operations. "Anyone who owns a private plane could build a home, a hangar and have access to the airport," said Hanisch. "To get some context of the Whitsundays, the area includes the mountainous rainforest that comes right to the Coral Sea, which just off shore contains 74 breathtaking islands and the Great Barrier Reef. The islands include world famous resorts such as Hamilton Island, Daydream Island and Whitsunday Island; the home of the world's best beach, Whitehaven Beach. The place has been a Mecca for boaties and tourists, including Oprah who included it during her visit to Australia."
About Funnel Bay

Approval facilitates 402 dwellings – works already undertaken include drainage, clearing and earthworks.

Existing development approval over the site is extremely unique and could only be replicated through extensive environmental consideration, engineering design and land use studies.

Easily accessible to existing population of Airlie Beach, ensuring access to a permanent residential market of 'day trippers'.

Recent $20million upgraded Airlie Beach Main Street nearby.
Expression of Interests should be lodged no later than 4pm on Thursday 27 November 2014. For an Information Memorandum or Town Planning Report please contact Michael Hanisch of PRD Whitsundays 0402 845 415. Property listing: http://www.prdwhitsunday.com.au/details/7258813
Published in November 18, 2014