PRD dominates REB Top 50 Sales Offices!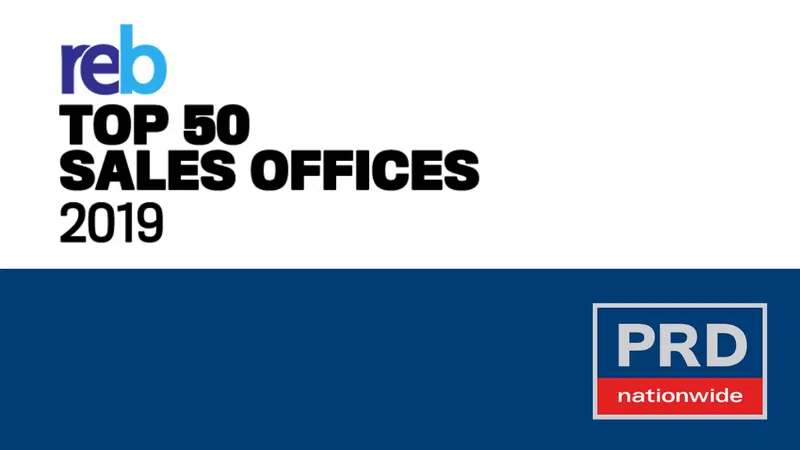 For the Seventh year, the country's best real estate sales offices have competed for the top spot in the REB Top 50 Sales Office rankings.

PRD offices: Hunter Valley, Newcastle and Port Stephens, saw through competitive market conditions and took out the top positions, with the highest number of sales (over 1,400) and over 1800 listings! 

We are excited to announce that PRD 'owns the Hunter Region' with $1.1 billion in sales value and two PRD offices ranked in the top 5 for the highest number of sales - 'the numbers don't lie', according to the REB's Top 50 Sales Offices Report.


One of the few groups to show this scale of results, PRD continues to achieve these top honours, solidifying their previous years' standing in the Top 20 Sales Office in Australia and cementing a continued commitment to client outcomes.

PRD Hunter Valley's consistent 'Sell Smarter' approach and client focus saw it ranking again in the Top 10 Sales Offices for 2019 and for the second consecutive year! Luke Anderson and Rhonda Nyquist from PRD Hunter Valley said we are incredibly excited to see the recognition again to be in the top 50 offices and how we rank against other large offices. This award is a testament to the hard work all our staff put in every day and our fantastic agents who have one of the best conversion rates in the country. 

PRD Newcastle has gone from strength to strength, again ranking, as one of 2019's Top Sales offices with its competitive sales growth strategy firmly in place. PRD Newcastle Principals Shula Kentwell and Mark Kentwell, have also expressed their honour in making to the list.

"We are very pleased that PRD Newcastle has been ranked number 8 in the REB Top 50 Real Estate Sales Offices Australia wide. Thanks to our many vendors and amazing team for once again helping us make the list every year since the awards began!"

This year, PRD Port Stephens joined the Top 50 Sales offices elite group, showcasing its continued commitment to property expertise and local market knowledge. Bruce Gair and Dane Queenan from PRD Port Stephens said we are very proud of our team who always put their clients first and strive for the best possible price always. Most of our team have been working together for many years now and know how to perform in any market. We want to thank all our loyal clients who have been selling with us and keep referring families and friends to us.

The rankings are determined through a mix of scale, sales volume, number of sales, office efficiency, conversion from listing to sales, and total sales staff while also adjusting for geographical volume advantages.

"Congratulations to our PRD offices being recognised as the best, ranked in Australia's Top 15 in 'REB Top 50 Sales Office rankings, this is a testament to their steadfast focus, the motivation and energy of our outstanding Principals and their teams. As market leaders, they are agile in quickly responding to continuing changes in market conditions, striving to exceed the expectations of their clients. You are true ambassadors of the PRD 'Sell Smarter' approach," Tony Brasier - PRD Chairman and Managing Director said. 

To view the full release and rankings from REB, please click here.