PRD outranks competition in national sales offices' list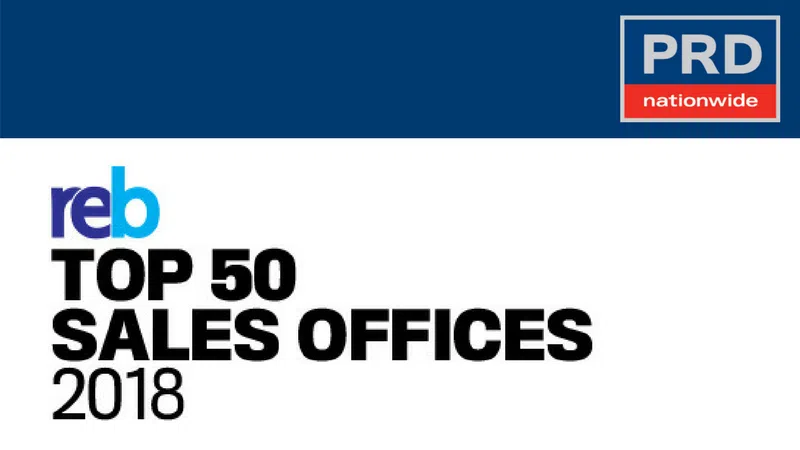 How exciting! Two PRD offices were named among the best in the country in the sixth annual Real Estate Business (REB) top 50 sales offices report.
Released on 5th February 2018, PRD Hunter Valley ranked 7th, and PRD Newcastle took the 13th place.
The REB Top 50 Sales office online report gives an overview of what drives Australia's top performing real estate offices.
The ranking celebrates the best-performing residential sales offices for the 2016-17 financial year in Australia. Key metrics that were used to determine the ranking included:
Conversion rate which highlights the ability of an office to sell properties efficiently

Office efficiency provides a clear idea as to how productive each team member is

Total value of properties sold; and

Total number of sales.
The Top 50 Sales Offices' ranking represented a total value of sales of $11.9 billion and over 16000 listings. With the two PRD offices accounting for $ 615.6 million in sales and 1,264 listings.
Luke Anderson and his team at PRD Hunter Valley have moved up from rank 20 in 2017, to rank 7 this year with an outstanding result of $307,809,575 in sales volume, with 712 listings, and a 40.19 staff efficiency ratio.
The office has been recognised No.1 in the Top 5 Sales Offices in the Country for the categories of "Total Number of Sales" and "Total Number of Listings".  

PRD Hunter Valley, Luke Anderson, said he and his team are all so thrilled with this great result. It is a testament to the amazing team that we have in our office all the way through from the Real Estate Agents to the support staff.
This is great recognition for the skill and professionalism of our agents, the support teams, to the high level of training and the most up to date technology available. We can't wait to celebrate the success with our amazing team," he said.

PRD Newcastle has also expressed their honour in making to the list.
"We are very excited and humbled to make the list of the top 50 sales offices in Australia once again. This is particularly pleasing as our business is based outside of a capital city. 2017 was a big year for investment in our business and saw us experience significant growth in residential sales, project sales and property management. We are pleased with our results given many of the benefits of project sales, and new recruitment is yet to be fully realised, so we expect to see those benefits reflected in our settlement results in the coming years.
In 2017 we had an extremely strong focus on the customer service experience and use of cutting-edge technology in the sales process.
Our momentum continues to build, and we are excited about the years ahead," Mark Kentwell, PRD Newcastle Principal said.
PRD Chairman and Managing Director, Tony Brasier, said this excellent result from our Hunter Valley and Newcastle offices is a credit to the focus and motivation of our outstanding Principals and the energy of their teams.
"As market leaders, they constantly strive to exceed the expectations of their clients and customers every day and are great ambassadors of the PRD smarter way of selling the property."
To view the full release and rankings from REB, please click here.