Real Estate By The Numbers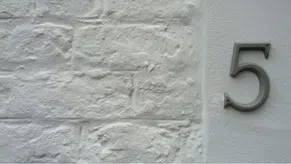 Buyer's intuition? It could be your numbers talking.. Have you ever looked at a property and known instantly that it was the one? Walked into an open home and felt an instant connection?
Alternatively, you may have viewed a property and been alarmed at the unease you've felt as soon as you pulled into the driveway, no matter how inviting the landscaped grounds and charming colonial style home appeared.
According to world renowned numerologist Max Coppa, it could the numbers behind a property that are responsible for creating that feeling of optimism, or impending doom, that you've felt from the moment of inquiry.
"Buying a home is one of the biggest financial investments we will ever make - when you first walk into a home you'll either feel good or will be turned off. This has a lot to do with energy and aesthetics, but perhaps it's also your numbers talking," he said.
"A house's street number can reveal important insight in to the energy of the house and quite possibly its future potential. If you've ever imagined being able to look at a house number and instantly assess whether that home will be a perfect match for you, you have to realise the key is in your date of birth!"Mr Coppa went on to describe role of numerology in real estate and how you can apply it to your own experiences.
"Everything on the planet is calculated by numbers and we add up as well. Pythagoras, the father of numerology worked this out thousands of years ago and as a professional numerologist I've updated its use to suit the 21st century," he said.
Max Coppa's Real Estate by the numbers
First, find your life lesson number. Numerology works mainly with the numbers 1 to 9, including the master numbers 11, 22, 33, 44, which are not broken down to one digit.
Everything in numerology begins with knowing your life lesson number. To find out your life lesson number simply add all the numbers together in your date of birth then reduce it down to a single digit.
For example, if your date of birth is 25 June, 1983 you add 2 + 5 + 6 + 1 + 9 + 8 + 3 = 34. You then reduce that number to a single digit 3 + 4 = 7. This is your life lesson number. In this example, being a life lesson 7 you'll find house numbers that add up to a 7 such as 304, 16 or any combination of numbers that add up to a 7 will suit your energies.
What do the house numbers mean?
One house: Active, sporty, busy, energetic and lively, not for the faint hearted.
Two house: Peaceful, homely, nurturing and great for families.
Three house: Happy, friendly, social, good for writers or journalists.
Four house: Organised, structured, stable, good for planning and building.
Five house: Positive, good for business and suits a traveller.
Six house: Calm, loving and full of happiness, lots of visual appeal.
Seven house: Dynamic, modern, can be unpredictable, good for people in IT and computer industry.
Eight house: Busy, money, power and well suited to passionate people. Nine house: Tranquil, serene, well suited to psychologists, artists, meditators, spiritual people.
The master numbers:
Eleven house: Self-employment, independence and teaching.
Twenty two house: Peaceful, relaxing, therapeutic, well suited to those in the healing profession.
Thirty three house: Social, fun, networking, well suited to groups and gatherings.
Forty four house: Stable, reliable, well suited to high profile people.
So, are you compatible?
If you live on your own the decision to buy will obviously be much easier. However, if you are in a relationship, over the years one partner may grow to love the house while the other begins to hate it. According to Mr Coppa, this is the numbers holding influence, so a team decision is important when making a purchase.
"In this case, you would need to consider the life lesson numbers collectively of each person who will live in the house," he said.
"If you can't buy a house that matches your life lesson number then simply understanding the energy of the house number will help you to blend and work with it."
Words from the pragmatist
Whilst respecting the possible role of numbers in the game, PRD Managing Director Tony Brasier preferred to take a more pragmatic approach to his 2014 outlook. "Having lived happily in the same property for the past 23 years, which doesn't reflect any of the family numbers, I prefer to look at research and trends to formulate my decisions around property," he said.
"However, being a real estate agent you do need to adjust to many different methods and cultures that assist purchasers in arriving at a decision about a home that they are comfortable with."
"Feng Shui is a case in point and continues to influence Chinese buyers of Australian property."
"The facts reveal that following a slow start the market really gained significant momentum through the second half of 2013 and I'm anticipating all segments of the market to display further improvement this year.
"First home buyers, local investors, developers, 'off the plan' buyers and offshore investors will all increase their level of activity in 2014."
Mr Brasier expected the strength shown in the Sydney market during the second half of 2013 to be reflected in other capital cities around Australia.
"A strong Sydney market is always a good prelude to improving conditions around the country," he said.
"Capital cities outshone the previous year's performance by 8 per cent in 2013. Even southeast Queensland, which was battered in the downturn, has shown vast improvement with falling stock levels clearly showing an appetite for property which is a strong indication that sales volumes will increase and prices stabilise, then slowly increase, through the course of 2014."
"In my opinion, market participants have good reason to be extremely optimistic about the next two to three years with only good numbers to look forward to."
About Max Coppa
Max Coppa is Australia's leading expert in palmistry, numerology & dream interpretation with over 35yrs experience. Max resides in Brisbane and is available for private consultations, workshops and events and media appearances. For more information, visit www.maxcoppa.com or call 0415 619 524. Follow Max on social media www.facebook.com/maxcoppapsychic and www.twitter.com/maxcoppa
About Tony Brasier
Tony Brasier was the CEO and Chairman of Colliers International Holdings (Australia) Limited between 1999 and 2009. He is now Chairman of PRD, a wholly owned subsidiary of Colliers International, where he is responsible for the growth and strategic direction of the Australian business.
Published on February 20, 2014