PRD Research Releases AEPR and Affordability & Liveability Guides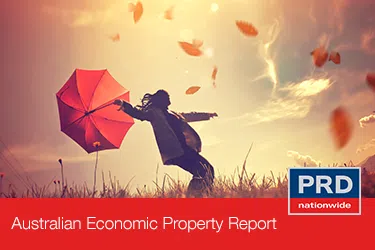 The recent release of the PRD '2018 Australian Economic and Property Report' and Capital City 'Affordability and Liveability Guides' signals a significant change in the property market generally and particularly within the 'housing affordability' landscape. The set of reports provide an overview of the key economic drivers and their impact on the property market, assisting home buyers and investors in making fact-based property decisions.

Following sustained growth in residential values in major city markets over the past 3 years, there have been a number of factors contributing to a slowdown in many markets. A tightening of lending policies, increased costs for offshore buyers and a general perception of peaked prices contributing to these changes.

The PRD Australian Economic Property Report shows an improvement in consumer sentiment over the past 12 months (3.4% increase) and placed in a positive position at 102.4 index points (98.6 previously). This positive index reading, evident since late 2017, continues past the first quarter in 2018. 

Over the past 3 years PRD 'Capital City Affordability and Liveability Guides', are tracking the market at both a national and capital city level, have reported on an exploding property market in Sydney and Melbourne, increasing affordability issues and first home buyer's 'cries of help' in both capital city markets. 

The disparity between the markets when comparing the median prices between Sydney and Melbourne with that of Brisbane and Hobart, whilst watching the growth rate of metro versus regional markets left most of the market wondering how much longer can we really have such high growth. 
There's no doubt housing affordability remains an issue, however, in the latest report, there has been significant changes in who tops the list in affordability. In 2018 NSW has consecutively had the most improved number of first home buyer loans, increasing by 74.9% (12 months to December 2017) and 80.8% (12 months to March 2018). Tasmania (TAS) historically known as the more affordable option when compared to NSW, recorded a lower first home buyer loans growth at 4.0% and 6.9% respectively.

In the 2018 PRD research release has taken the bold step to include the new criterion of 'liveability' into the research analysis and report methodology. It is no longer realistic to simply report on affordable suburbs, but to include those that have high 'liveable' factors. 

Liveability is gaining traction amongst home buyers and does attract a cost. This latest release provides insights into the cost of liveability and how much home buyers need to be prepared to pay to have this requirement met in their purchase. 

Table 1: Affordability vs Liveability


The figures illustrate the liveability costs between the capital cities, with Sydney proving to have the highest average liveability cost at 18%, however interestingly this is on par with Hobart (16.0%). Brisbane proves to be the most affordable and liveable capital city, with the average liveable cost of only 5%.

Table 3. Affordable and Liveable Hotspot Suburbs

From Table 3, Affordable Hotspots it is evident that, in general, Sydney has the highest entry price yet the lowest rental yield; whereas Hobart provides the lowest entry price with the highest rental yield. This is a similar trend from 2nd half 2017 PRD Capital City Hotspots series, which confirms that Hobart continues to provide the most bang for the buck.
 For the latest property market insights, download our reports today:
Affordable and Liveable Property guides 
2018 Australian Economic and Property Report