South East Queensland Remains Strong Throughout COVID-19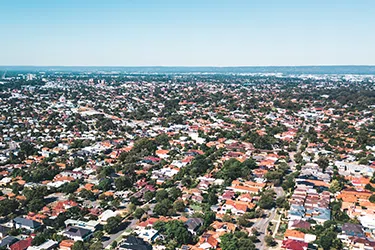 From the Desk of the Chief Economist – 20th May 2020
COVID-19 has led to a short-term shutdown of the Australian economy, impacting different industries in unique ways. Many have questioned its impact on the property market, and whether we would see a large drop in housing values. This of course has lead to other questions, such as whether now is a good time to sell or buy, and when we could see a market recovery.
The Australian property market is not a homogenous "one-fits-all" market. There are "micro markets" in all pockets of Australia, defined largely by: location, demographics, and property type. For example a market that is located by the sea, mostly populated by holidaymakers, that has a large unit/apartment presence is impacted more severely by COVID-19 and the tourism industry shutdown; compared to an inland suburb, mostly populated by working families, in established dwellings.
The South East Queensland (SEQ) market, which in this article is defined as the three major Local Government Areas (LGA) of Brisbane, Gold Coast, and Sunshine Coast; has remained strong throughout COVID-19. This is particularly true from a median price perspective, with each LGA reaching its peak median house price in 2020 (which includes sales up to 19th May 2020).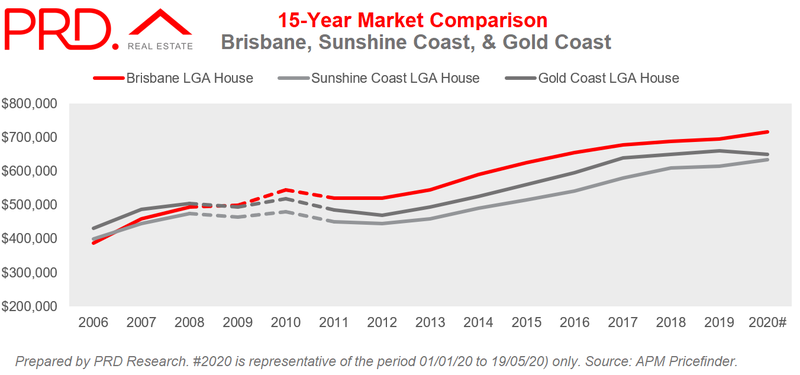 Brisbane LGA recorded a median house price of $717,000; breaking the $700,000 threshold for the first time. Gold Coast and Sunshine Coast LGAs also recorded high median house prices, of $650,000 and $635,000 respectively.
The SEQ unit market has shown resilience throughout COVID-19, with both Brisbane and Gold Coast LGA markets holding steady and Sunshine Coast LGA recording a slight growth. Brisbane LGA's median unit price was $448,000 as of 19th May 2020, which was similar to its 2019 median unit price of $450,000. Gold Coast and Sunshine Coast LGAs recorded median unit prices of $440,000 and $438,000 respectively; also similar figures to 2019.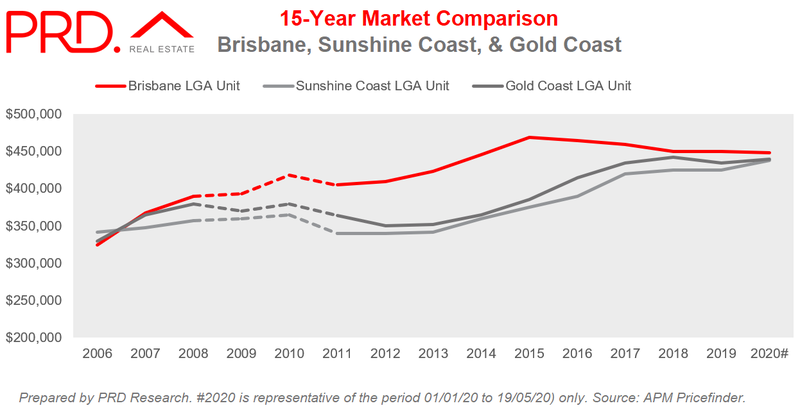 Reaching peak median prices or showing market resilience during COVID-19 might be a surprise to many, however there are conducive tools at hand such as:
The RBA holding the cash rate steady at its lowest historical figure of 0.25%, to provide a platform for economic recovery;
Many banks and non-bank lenders are providing extremely attractive record low fixed interest rate home mortgage loans;
The Australian Dollar now has less purchasing power, meaning that Australian property is more affordable and accessible to overseas buyers with stronger currencies;
Federal and State Government stimulus packages and policies are allowing people access to funds, for example early access to superannuation. If you are a couple this could mean an extra $40,000 into your house deposit.
Real estate agents are being savvier by using all manners of technology to allow them to do business, including augmented reality (AR) and virtual reality (VR).
SEQ median house prices bounced back and increased sharply in the last 3 weeks, reflective of increasing consumer confidence due to easing of restrictions. Foreign investors are reacting positively to the way that Australia has reacted to COVID-19, with many applauding the measures introduced and recognising Australia as a safe country where your investments are protected. Already Chinese buyers are back, with Juwai IQI reporting twice the number of Chinese enquiries on Australian real estate in April as in any other month of 2020, and 50% more than in any month in the 2nd half of 2019.
The Australian economy is now on its path to recovery and the market is beginning to open up slowly. This is a positive development that will make marketing and closing property sales progressively easier. The SEQ property market already showed its strength and resilience throughout the hardest weeks of COVID-19. As the economy recovers to its normal pace we can expect the SEQ property market to continue to perform.