Which capital city has broken the record for vacancy rates?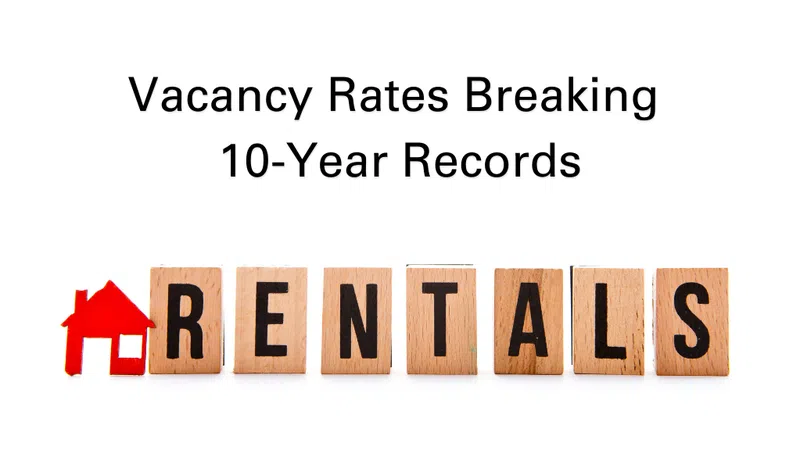 From the Desk of the Chief Economist - Vacancy Rates Breaking 10-Year Records
Australia's rental market has strengthened considerably in the past 3-4 months, with many markets (regardless of the capital city or regional areas) reporting higher weekly rental prices, increasing numbers of properties rented, lower average days to let, and declining vacancy rates (i.e. higher occupancy rates).

Which capital city has broken the record for vacancy rates?
Vacancy Rates
SQM Research released data on vacancy rates on 15th March 2021. This captures the availability of rental properties and the level in which they are absorbed, as of February 2021. The national vacancy rate remained stable in the past 12 months, sitting at 2.0%, which is lower than the 3.0% Real Estate Institute of Australia's healthy benchmark.
Vacancy rates data shows Brisbane to be an extremely strong capital city market for rentals, recording a low 1.5% in February 2021. Brisbane has broken its own vacancy rate record, with the current vacancy rate being even lower than 10 years ago (1.7% in February 2011). This is quite an achievement, especially compared to Sydney and Melbourne.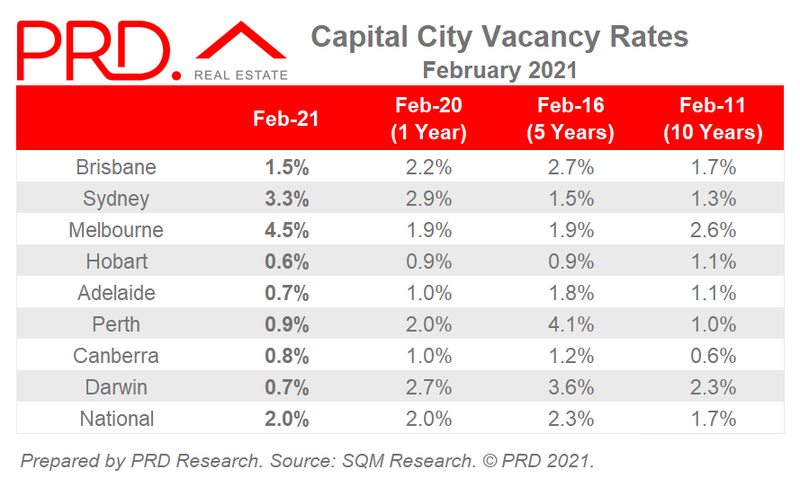 Other capital cities such as Hobart, Adelaide, Perth, Canberra, and Darwin have also recorded extremely low vacancy rates, all under 1.0% in February 2021. These capital cities have also broken their 5-year and 10-year records. This data suggests that rental properties in these capital cities are now occupied at a quicker rate.
Vacancy rates data has shown our rental market is currently undersupplied, with most of Australia's capitals under the REIA's 3.0% healthy benchmark. An exception to this is Sydney and Melbourne, however their vacancy rates are not too far off, at 3.3% and 4.5% respectively. Considering COVID-19 restrictions that both markets were subjected to, much more so compared to other capital cities, each represents a relatively resilient market.
Moving Forward
A low, and/or declining vacancy rate is of to benefit investors, as this indicates higher occupancy rates, meaning quicker cashflow.

On the other hand, we are also hearing of an increase in difficult experiences in the rental market due to the increase in weekly rental prices and absence of supply. Current vacancy rates data further illustrates how tight and competitive our rental market is at present, with many rental properties receiving higher numbers of applications than anticipated.
Current rental market conditions have benefitted investors, signalling the need for other investors to enter the market immediately. More than ever now is the time for investors to enter the market.
PRD Chief Economist, Dr Diaswati Mardiasmo commented on the rental market  further in the following news articles: