Will the flood dampen property price growth?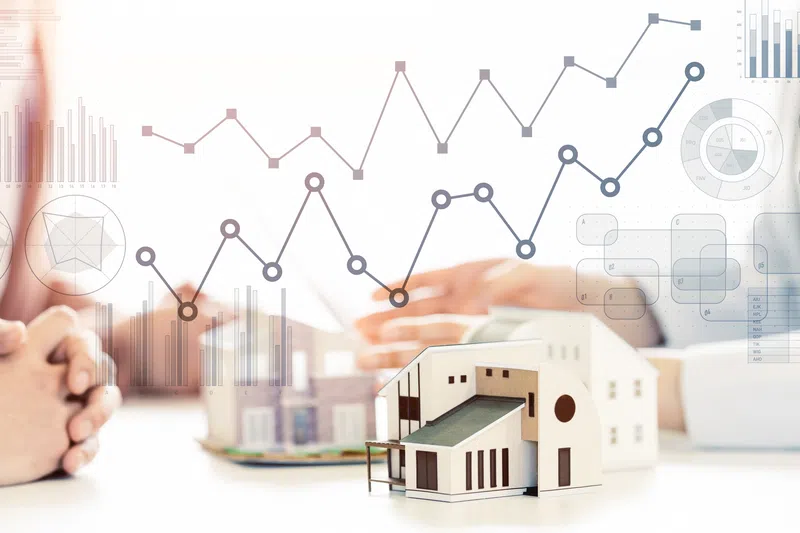 From the Desk of the Chief Economist
Queensland has had more rainfall than in the 1974 floods, with over 30 suburbs across the South East, receiving more than 1000m of rainfall in the past 6 days. The torrential rain has made its mark: houses and businesses underwater, roads flooded and blocked, debris and mud in many locations, families re-located, and infrastructure needing urgent repairs.
This is not the first time Brisbane and its surrounding areas face a natural disaster. Many remember the floods of 1974 and more recently 2011. What does this mean for property prices, especially in flood-prone areas? Is there resilience? Should investors worry?
Market Resilience
The 2022 flood event impacted 5 Local Government Areas (LGA): Brisbane, Logan, Ipswich, the Gold Coast, and Moreton Bay. Historical data between 2007-2021 for the 5 LGAs suggest high market resilience. Median house prices in the 5 LGAs were only impacted negatively during the 2011 floods, and only for the year after (2012). There was a recovery in 2013, which was not deterred by Cyclone Oswald. Furthermore, continuous price growth stood against Cyclone Debbie in 2017.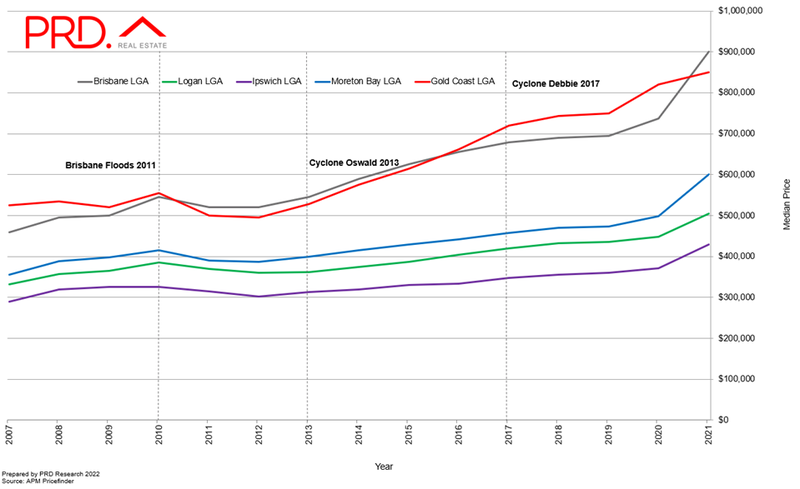 Flood Impacted Areas
Many key suburbs are impacted by the 2022 floodwaters where people have lost their homes or require urgent repairs to their dwellings. These include but are not limited to suburbs such as Rocklea, Oxley, Tennyson, Indooroopilly, Moorooka, Toowong and New Farm. Other suburbs have experienced flooded roads, so while their homes are safe, residents are "locked-in" with limited options to travel.
Median house prices in these areas showed a dip in the year after the 2011 floods, however, they withheld their value through Cyclone Oswald and Cyclone Debbie. That said, none of the two Cyclone events resulted in the devastation of the 2011 floods, thus it is no surprise to see property values unaffected.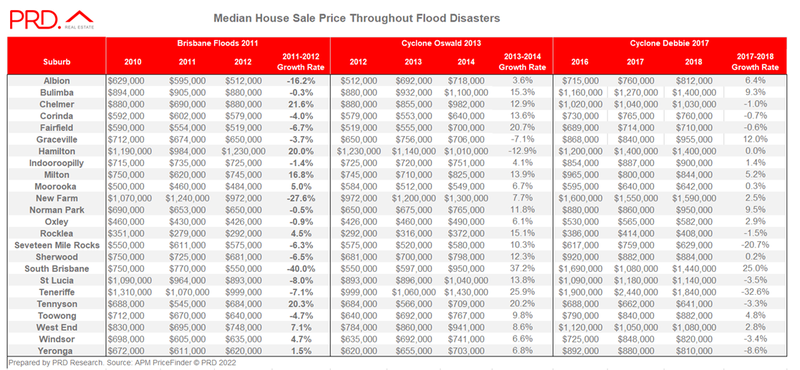 Although median house prices dipped slight and were within the expected single-digit percentage range, some suburbs were significantly hit by the 2011 floods. Albion (-16.2%), New Farm (-27.6%), and South Brisbane (-40.0%) were suburbs that saw the highest decline in value the year after the floods. Interestingly, some suburbs gained value the year after the 2011 events. This includes West End, Windsor, Yeronga, and Moorooka; with single-digit growth between 2011 and 2012; and important double-digit growth in Chelmer (21.6%), Hamilton (20.0%), and Milton (16.8%).
Only median house prices in Graceville (-7.1%) and Hamilton (-12.9%) were impacted the year after Cyclone Oswald in 2013. Many more suburbs were affected by Cyclone Debbie in 2017, with the highest median house price decline the year after seen in Seventeen Mile Rocks (-20.7%) and Teneriffe (-32.6%). This is not surprising, as although severe weather warnings were issued during both Cyclones, the impact was more evident in North Queensland.
Moving Forward
The Brisbane property market has seen extraordinary growth since COVID-19, and even more so with the promise of the Olympics 2032. Will the 2022 floods dampen the market growth? The short answer is maybe, and if it does, it will be a small dip for a short period.
Historical data suggest that even in the most flood-impacted suburbs property prices have continued to trend upwards, with a dip only experienced in the year after the floods.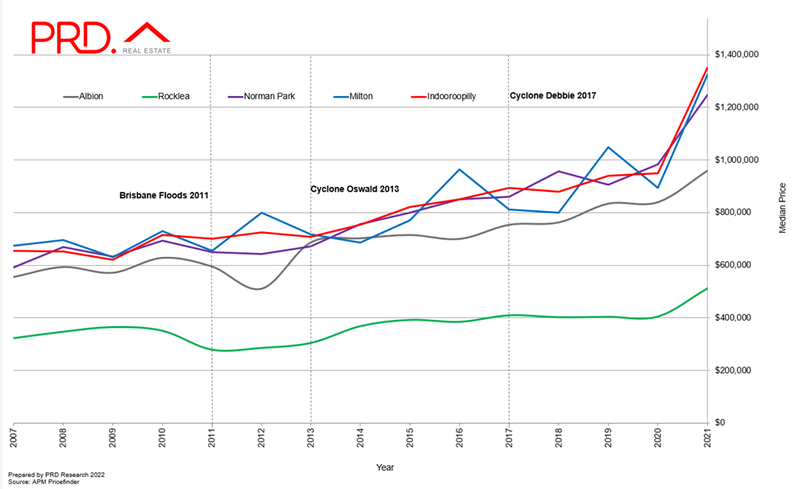 Albion, for example, experienced the biggest dip in the year after the 2011 floods, however, median house prices recovered in 2013. Prices stabilised throughout 2013 – 2016, with very little impact from Cyclone Oswald in 2013, and grew from 2016 onwards, with no impact from Cyclone Debbie 2017. Others – Rocklea, Norman Park, and Indooroopily – experienced a moderate dip the year after 2011 floods, and Milton experienced positive growth.
More often than not, after a flood event, buyers and investors become more aware of risks and hesitate to purchase in the area. This allows buyers who have been hunting for a property over a long period of time to enter the market, with the knowledge that they may need to pay for a higher insurance premium. In a market where supply is low, particularly in certain areas that would normally have high liveability (for example desirable school catchment, close to public transport, plenty of green spaces, close to shops and amenities), the risk of flood damage can often be mitigated.
Investors, especially those from interstate who bought their property sight-unseen would be worried. This is not a surprise, especially as the period between floods has shortened. There were 37 years between the 1974 and the 2011 flood, whereas there were only 11 years between the last one and the 2022 flood. However, given the current rental demand and supply imbalance, and the prospect of international borders opening, any deterrence for investors would be short-lived.
The devastation that each flood brings is immeasurable, especially to those who have lost their homes and/or businesses. The local government was quick to respond, in the form of evacuation shelters and assistance. The Federal and Queensland State Governments have banded together to create a series of Disaster Relief Assistance payments, and Mud Army 2.0 is currently being assembled to put Greater Brisbane back together again.
The floods might hit house prices and shake confidence temporarily, however, history shows that the property market is highly resilient.