Will the NSW floods dampen property price growth?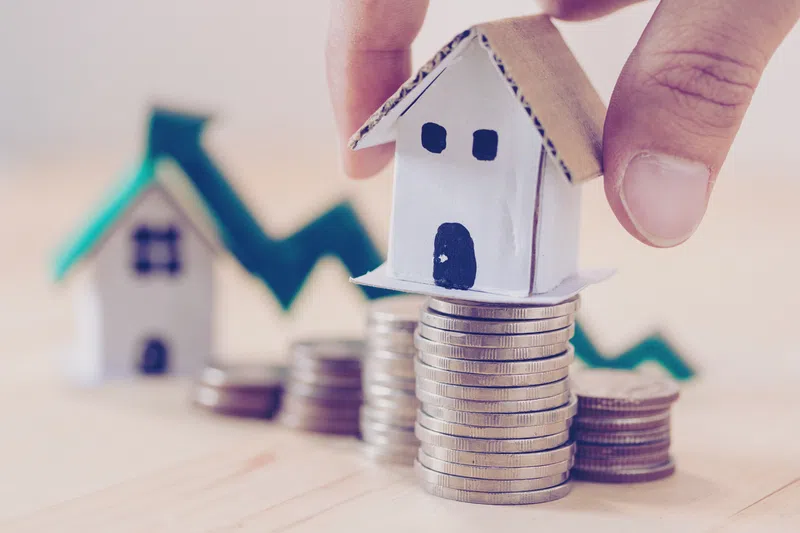 From the Desk of the Chief Economist
In early 2022 Northern New South Wales (NSW) experienced a major flood event with the town of Alstonville between Ballina and Lismore recording 481 millimetres of rain in just 24 Hours. Wilsons River peaked at 11.4 metres 0.8m above the Lismore levee height and the flood waters eventually reached a height of 14.4 metres. 4000 homes were uninhabitable, and many businesses and community facilities we also affected, with many roads flooded.
What does this mean for property prices, especially in flood-prone areas? Is there resilience? Should owners and investors worry?
Market Resilience
The 2022 flood event impacted 5 key localities: Casino (postcode 2470), Coraki (postcode 2471)/Woodburn (postcode 2472), Kyogle Local Government Area (LGA), Lismore LGA, and Richmond Valley LGA.
Historical data between 2008-2022 for all 5 localities suggest high market resilience. Median house prices in the 5 localities were only impacted negatively during the Northern NSW Floods 2011 floods, and only for the year after (2012). There was a recovery in 2013, which was not deterred by Cyclone Oswald (2013), and continuous price growth stood against Cyclone Debbie and Lismore Floods in 2017; and Lismore Floods 2020.


Moving Forward
Historical data suggest property prices were impacted the year after the Northern NSW Floods 2011, however for the most part have recovered by 2013/2014. Coraki/Woodburn was the only property market that still showed negative growth in 2014, however by -4.3%, which is marginal.
Cyclone Debbie in 2017 and Lismore Floods 2017 did not dampen property prices, in fact there was double digit property growth in Casino (postcode 2470) the year after (2017-2018). Similarly, the Lismore floods in 2020 did not dampen property price growth, with median house price recording record-breaking sales and double digit growth between 2020-2021.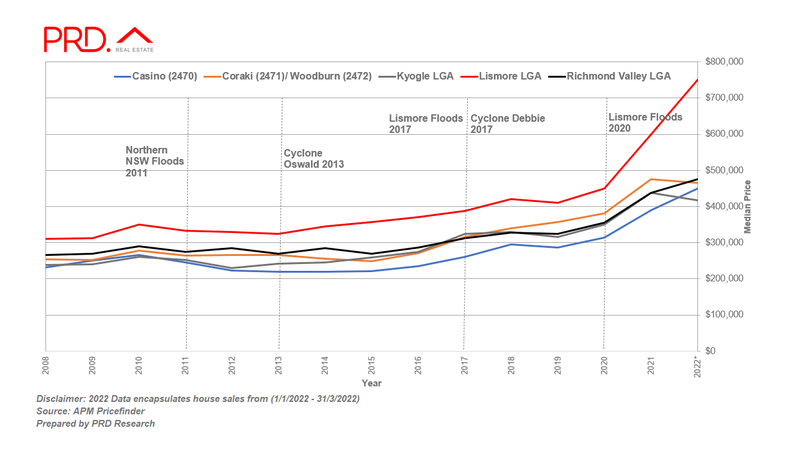 The Lismore and surrounding area has seen extraordinary growth in property prices, much like other parts of NSW, due to a higher level of demand compared to new supply.
Considering the devastation experienced by the area, will the 2022 floods dampen market growth? The short answer is potentially yes. However if it does, it will be a small dip for a short period of time. It would not be surprising if the recovery period is not as long as previous natural disasters, due to the deep imbalance between demand and supply.
More often than not after a flood event buyers and investors become more aware of risks, and thus hesitate to purchase in the area. This allows for buyers who have been hunting for a property for a period of time to enter the market, with the knowledge that they may need to pay for a higher insurance premium. In a market where supply is low, particularly in certain areas that would normally have high liveability (for example desireable school catchment, close to public transport, plenty of green spaces / parks, close to shops and amenities), the risk of flood damage can often be mitigated.
The devastation that each flood brings is immeasurable, especially to those who have lost their home and/or businesses. The NSW State Emergency service ordered an evacuation order with the local government forming an evacuation centre in Lismore.
Flood assistance packages have been created with the NSW and Federal Government offering a wide range of financial assistance for both homes and businesses. Australia Defence Force personnel have been deployed to help with the clean-up effort along with the State Emergency Service and volunteers; to put Lismore and its surrounding area back together again.
The floods might hit house prices and shake confidence temporarily, however history shows that the property market is highly resilient.