Roaring Regions - Top 10 Affordable Regional Areas 2023
The beginning of 2023 has marked an uncertain time for property buyers, with many monitoring cash rate movements and its impact on the housing market. The Reserve Bank of Australia (RBA) increased the cash rate for the 10th time in March 2023. This impacted mortgage repayments for many, with first home buyers, who have not yet seen a cash rate increase, a vulnerable cohort.
Slower price growth is now evident in many markets, including regional areas. This makes house prices more affordable and creates opportunities for owner-occupiers and investors. However, with higher living costs buyers remain cautious.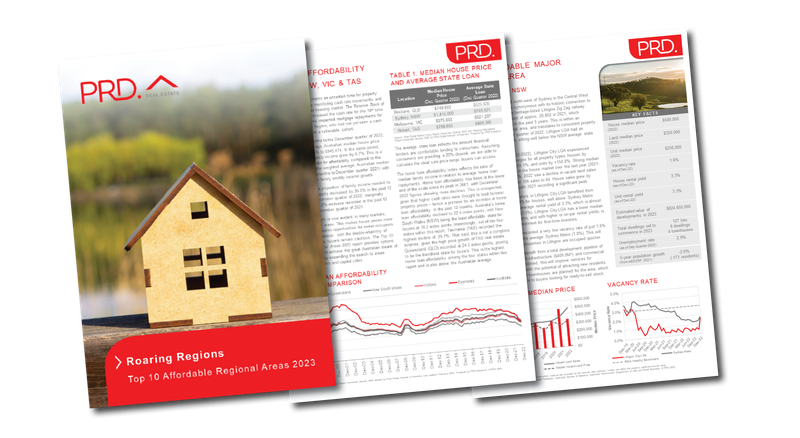 The Roaring Regions: Top 10 Affordable Regional Areas 2023 report provides options for those looking to achieve the great Australian dream of owning a home by expanding the search area to outside of the metro and capital cities.
Interestingly, all chosen LGAs have a median house price of $600,000 and under, approximately 30% lower than Melbourne's and more than half of Sydney's median house price in December 2022.
Five selection criteria were used to select the Top 10 Regional Areas:
Affordability – the Local Government Area (LGA) has a median house price below the calculated maximum affordable property sale price, which is the state average loan + 20%
Property trends – to ensure statistical reliability, the LGA considered must have 20 transactions or more in 2021 and 2022, with positive median house price growth within that period.
Investment – to ensure conducive investment opportunities, the LGA will have an on-par or higher rental yield than its capital city, as well as an on-par or lower vacancy rate compared to its capital city.
Project development – the LGA will have a high estimated value of future project development, with a higher concentration of commercial and infrastructure projects, to ensure a positive economic outlook.
Unemployment rate – as of the December quarter of 2022, the LGA will have an on-par or lower unemployment rate than the state average, to ensure there is local job growth.
Based on the above methodology and selection criteria, ten regional locations were deemed to be affordable areas with solid fundamentals for sustainable future growth.
Download the report below to find out which regions made it into the top 10 for 2023.