Gold Coast Residential Market and Commonwealth Games 2018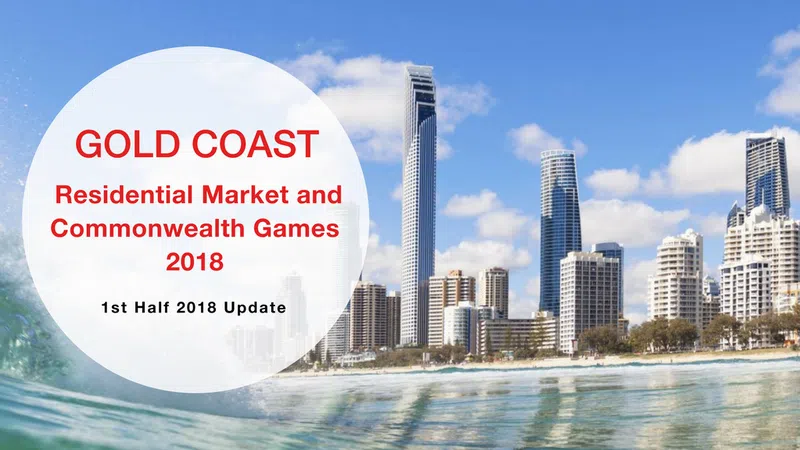 As the Gold Coast await with bated breath the start of the most anticipated international sporting game it has ever hosted, keen property watchers are increasingly wondering what would happen to the Gold Coast market once the Commonwealth Games 2018 has made its mark.
At present, the Gold Coast market is showing healthy signs of price growth, with houses recording 6.9% growth and units recording 4.2% growth over the past 12 months 2016 – 2017. There has been a 2.5% growth in the number of units sold between 2016 -2017, which when combined with positive price change suggest real capital growth in the market. 
From a capital cost and potential investment return perspective Gold Coast gives more "bang for your buck", as it has a lower median entry price (for both houses and units) compared to Sydney, Brisbane, and Melbourne; as well as higher rental yields and lower vacancy rates (for both property types). This makes investing in the Gold Coast a no-brainer. 
The 2018 Commonwealth Games will take place in mainly the following suburbs: Ashmore, Broadbeach & Broadbeach Waters, Carrara, Coomera, Oxenford, Runaway Bay, and Southport. 
At present, the most affected suburbs – Carrara, Oxenford, and Southport - have already recorded annual house price growth that surpasses the Gold Coast LGA, at 9.2%, 8.2%, and 8.5% respectively. Coomera has become a stand out suburb for unit investment, with annual price growth of 11.3%. What's more transaction growth in most of the Commonwealth Games 2018 affected suburbs have declined over the past 12 months, suggesting an undersupplied market.
Based on the Sydney Olympic Games 2000, Commonwealth Games 2006, and observations of on-the-ground real estate agents; it is expected that the Commonwealth Games 2018 will have an impressive impact on the Gold Coast market. The below graph (green line) reflects the market forecast for Gold Coast, corrected to accommodate current stringent laws on international buyer loans and changes in policies related to home buying since 2002.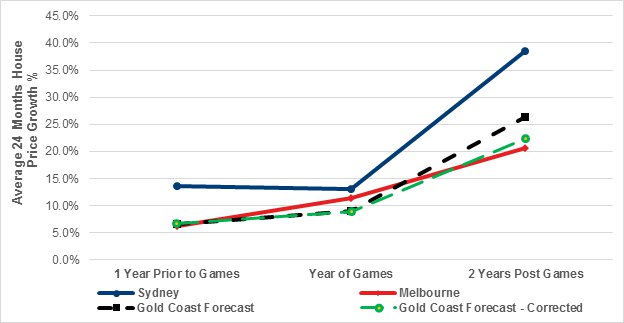 Should the market continue to go the same direction that it is going now, more owners, investors, and university students will come to the Gold Coast post-Commonwealth Games. Now is the time to get into the market and capitalise on higher levels of affordability.

Read more: www.prd.com.au/gc