Q1 2019 Key Market Indicators – New South Wales
New South Wales starts strong in 2019
New South Wales (NSW) continued to showcase strong economic fundamentals towards the end of 2018, preparing it for a strong performance in 2019. NSW earned 5 silver awards nationally in the PRD Q1 2019 Key Market Indicator Awards for: most improved number of first home buyer loans, highest number of first home buyer loans, highest number of dwelling approvals, most improved unemployment rate, and highest median growth in weekly family incomes. NSW also earned bronze awards nationally for lowest unemployment rate and highest nett migration.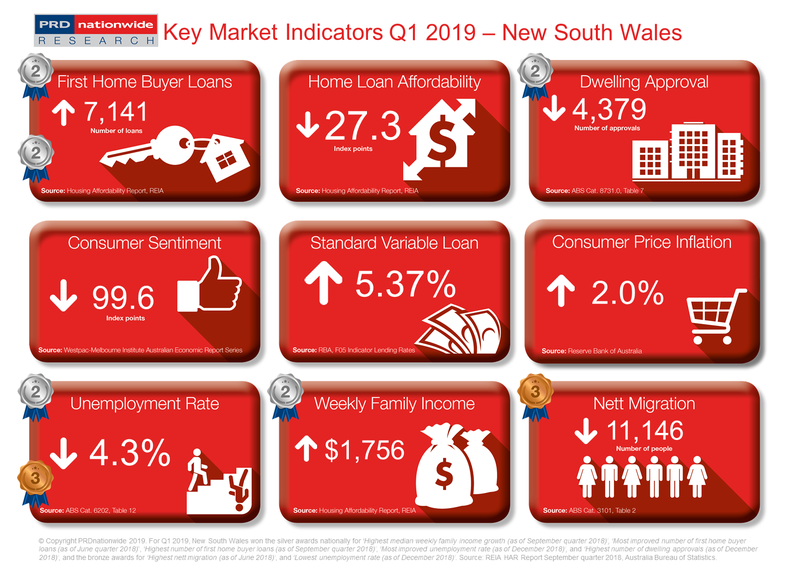 NSW has become more welcoming towards first home buyers, particularly for those located in and surrounding the Sydney Metro area. It is widely known that the Sydney market is entering a correction. Sydney Metro's median house price in 2018 was $1,275,000 (Q1-Q3 2018 data), which signified a softening of -5.6% over the previous 12 months. The median unit price was $765,000, signifying a softening of -2.6%. Combined with a decline of -10.4% in unemployment rate between December 2017-2018 and an increase of 2.6% in median weekly family income between September quarter 2017-2018, this positions NSW as having a friendlier market for first home buyers to enter. This is evident in the 5.4% growth in the number of first home buyers over the past 12 months between September quarter 2017-2018, recording 7,141 loans in the September quarter of 2018.
Although the above analysis on first home buyer's situation is positive, it is a drastic decline in growth when compared to the 12 months between June quarter's 2017-2018 figure of 68.8%. Again, this can be explained by the tightening in lending criteria applied by banks, as well as the realisation that a further price correction may occur. Thus, first home buyers are sitting tight in lieu of an optimum time to buy.
The PRD Q1 2019 Key Market Indicators provide a quick snapshot of the current state of the market in Australia, from both an economic and property perspective. The Indicators cover both national and state level data, comprising of:
Number of loans to first home buyers
Home loan affordability index
Number of dwelling approvals
Consumer sentiment index
Standard variable loan
Consumer price inflation index
Unemployment rate
Weekly family income
Nett migration
View the Q1 2019 Key Market Indicators