Airlie Beach Wins Queensland's Top Small Tourism Town 2022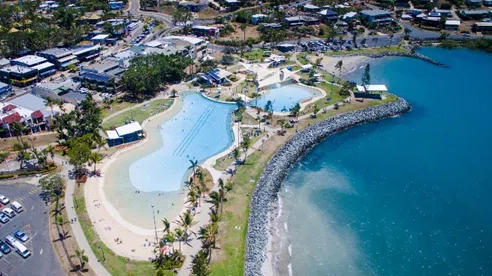 TWO of Northern Queensland towns have punched above their weight to bring home the 2022 Queensland Top Tourism Town Awards.
This year Winton and Airlie Beach have claimed the top prizes with Winton named the Top Tiny Tourism Town (population below 1500) winner and Airlie Beach winning the Top Small Tourism Town (population 1500 – 5000).
Presented by the Queensland Tourism Industry Council (QTIC), the annual Awards program recognises and celebrates Queensland's best holiday destinations, honouring communities across who demonstrate a commitment to visitor excellence.
"These awards have always celebrated the diversity of visitor experiences that only Queensland has," Mr Hinchliffe said.
"Whether it's a gourmet adventure on Tamborine Mountain, snorkeling at Airlie Beach, or walking with dinosaurs at Winton, the Top Tourism Towns of 2022 show Queensland is the place to be.
"Domestic tourism is bouncing back from the pandemic with Queenslanders rediscovering their own backyard and interstate visitors realising nothing beats a Queensland holiday.
"For great Queensland getaway experiences, this year's Top Tourism Town Award winners deliver the perfect travel itinerary. Congratulations to the awards' 2022 winners and finalists."
To Read the full article:
https://www.couriermail.com.au/news/townsville/northern-towns-winton-and-airlie-beach-named-as-states-best-tourist-destinations/news-story/fd8d972448195a2d4d7cc0fc1cbaecda