Whitehaven Beach 
Whitehaven Beach is a must-do - it's the beach you see in all of our marketing material with that beautiful white sand, and it is consistently recognised as one of the top beaches in the world. You can camp at the southern end of Whitehaven and if you have the opportunity, you should - waking up on one of the best beaches in the world is pretty cool, particularly as it is east-facing and you experience one of the best sunrises in the world. From the camping area, there are a couple of nice walks - one to a southern lookout, the other a little longer to Chance Bay, which is also beautiful, particularly when a northerly is blowing, as it is a south-facing bay and in those times dead calm. I have seen lots of whales in the winter months while sitting on the beach at Chance Bay.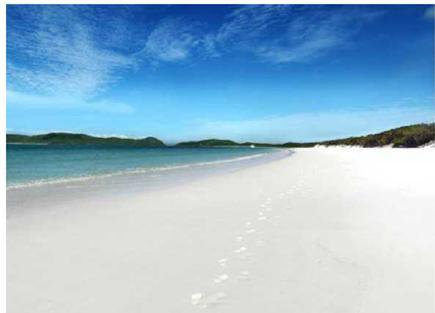 Hill Inlet
There is a lookout at the northern end of Whitehaven Beach. If possible, walk up (about 15 minutes each way) at low tide - this is the time to see the sands of Hill Inlet, which are amazing. As you walk along the beach, look into the water as it is teeming with marine life. The dark shapes you will generally see everywhere are stingrays. My kids love watching them from the nose of our boat as we cruise along the beach. If you have your own boat, a slow trip up Hill Inlet (take your crab pots if you can) is beautiful - there is a channel to follow and is best on a rising tide, as it can be shallow. There is also a little rock off the middle of Whitehaven, where it is worth dropping a line or trolling for a mackerel.  
Chalky's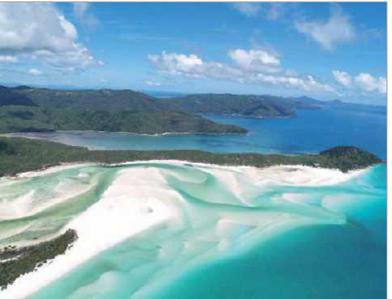 Across Solway Passage is another famous beach, Chalky's, as the sand is as white as chalk. It's every bit as nice as Whitehaven, we think, with a couple of extra benefits. It is generally less populated so you can find a quiet tree to yourself and it has a good fringing reef for snorkelling off the beach. Also, it is the place to be for sunset. We often go here in the morning to get the shade then across to Whitehaven later in the day for the afternoon shade. 

Not many people know is this – Chalky's is named after Dave Hutchin (iconic Whitsunday contributor/Fantasea Cruises). Chalky was his early nickname as he used to write the Sydney to Hobart placings on a chalk board in the early years of the race.

There are plenty of commercial boats to take you to these spots and lots more - simply check with your travel agent. There are also a couple of operators who will drop you on a beach (mainly of your choice, however, do listen to their recommendations) for camping. And if you have your own boat, don't forget to get a copy of '100 Magic Miles'. 

Cid Harbour
Another really nice place to visit is Cid Harbour on the opposite side of Whitsunday Island to Whitehaven. It still takes my breath away each time I enter this natural harbour, particularly from the Hamilton Island end - it's amazing. There are a number of beaches in the harbour all west-facing, so it's just beautiful for a happy hour sunset drink (this is one of the area's safest anchorages, so lots of yachties are on the beach from 4pm onward, who are always happy for you to say hello). All the beaches are connected by really nice walking tracks. There is also a lovely (generally unoccupied) beach on the southern tip of Cid Island itself. 

Henning Island
Henning Island is found just off the northern tip of Dent Island and the beach on the north-western end has to be visited. Approach from the west near the rocks as this is where it is deepest. It is a beautiful beach - so close to Hamilton, yet seems a million miles away. Camping with a permit is allowed, which is great because Hamilton is only five minutes away if you need some supplies or a splash of civilisation. 

North & Mid Molle Islands
There are two islands close to the mainland, North Molle and Mid Molle, which have lovely isolated beaches and are definitely worth visiting. The beach on North Molle, in particular, is tidal. We have been carried away having fun on the beach and our boat has gone aground - I was complaining about this to a friend who then rightfully said that there were probably 7 billion other people in the world who would be delighted to be stuck for six hours on a Whitsunday island - it's all about perspective! 

Long Island
A trip down Long Island Sound has to also be on your list if you have a boat or if you hire a tinny. You can call in to the Palm Bay Resort for a drink or even an overnight stay in one of their beautiful beachfront villas. There are two bays on the mainland side that have creeks that not many visit - if you had the opportunity to, with your crab pots, it would be worthwhile. 

To be honest, you don't even have to go that far for a bit of fun in your hired tinny. The three islands off Shute are all worth a fish, particularly the southernmost one. You will easily find the passage in the reef between it and the mainland - it's close to the island, simply anchor in the channel and catch a few lippers.