Airlie Beach Lagoon
Opening hours: 5.30am to 7pm during winter, 5.30am to 9pm during summer 
Charge: Free 
Location:  Parallel to the main street, Airlie Beach foreshore 
Suitable for:  All ages 
This is a great family day out, there are lifeguards on duty and in the eastern end, there are two lanes that mark 50m, one up and one back. If you want to lap swim its best if you go early in the morning or late afternoon, as the lagoon gets pretty busy during the day. The western end is shallower and great for kids, with a toddlers' pool at the far end. There is also a children's play area, barbeques and showers etc. 

Proserpine Swimming Pool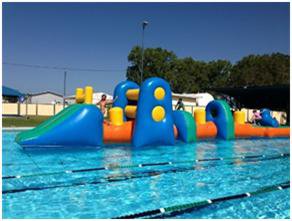 Opening hours: Monday, Tuesday, Wednesday & Friday 6am to 7pm Thursday 6am to 5:30pm & weekends 9am to 5pm 
Charge: Small normal pool charge 
Location:  79-83 Anzac Rd, Proserpine 
Suitable for:  All ages 
Just a 20 minute drive into Proserpine and the local pool is a great place to visit. It's heated for winter and also has a toddlers' pool. Give them a call on 07 4945 5790 as on the weekends they usually have a large inflatable obstacle course, which my kids absolutely love. Take a good book because you won't be able to get your kids to leave for hours!

Boathaven Beach
The ocean is magnificent to swim in, but not between November and March, due to stingers.  However, the stinger enclosure at the Port of Airlie beach is approximately 100m long and ideal for combining laps and an ocean swim.
Peter Faust Dam
The Peter Faust Dam, 25km west of Proserpine, is freshwater and approximately 9km wide and therefore wide enough for all but the best of long distance swimmers to get a training session in.