Airlie Beach Hiking Trails
We are blessed with some of the most beautiful scenic Hiking tracks on the mainland, with views of the coral sea and islands, it's easy to see why locals and tourist keep coming back for more. Make sure you have drinking water, a hat, sunscreen, and insec
https://parks.des.qld.gov.au/__data/assets/pdf_file/0020/150842/whitsunday-vg.pdf
Mt Rooper Lookout
Mt Rooper Lookout has views out toward Daydream Island and the Molle group, with Dent, Whitsunday & Hamilton Island off in the distance. This hike will get your heart rate up so choose a cooler part of the day for this walk. Take the swamp bay track and turn off about 200m to hike the 4.6km uphill trail through bushland to the lookout. Some parts of the track have spectacular panoramic views of Shute Harbour. You can then either return the way you came or continue to do the entire circuit which is 5.4km long and will bring you back to join the Swamp Bay track.
Alternatively, if you are looking for a less hilly walk then don't turn off to the lookout and continue to Swamp Bay which is quite nice on high tide. This is a 4.2km return trip.
Coral Beach Walk
A 2.2km return walk with a few smaller inclines makes this an easy, and great option for families. The trail brings you out onto a coral beach which is nice at high to mid tide.
From the beach you can take a moderate climb to The Beak Lookout, which is an additional 1.2km return track. Head down to the eastern end of the beach to find the entrance.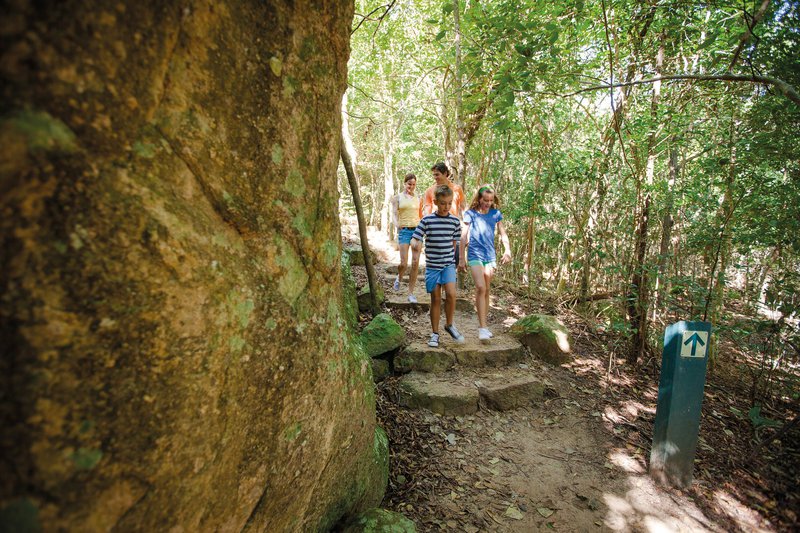 Airlie Creek Track
Leaving from Waterson Way between Seaview Drive and Raintree Place, this 850m track gently winds up the hill behind Airlie Beach. A beautiful rainforest trail that leads to a scenic natural rock pool that has a small waterfall in the wet season. This is the easiest of all the mainland walks.
Honeyeater Lookout
This hike is the most strenuous! Starting at the Conway track entrance at the end of Kara Crescent. It may be hard but the view at the end makes worth it! You turn off the main track around 2.3km into the hike and follow the path along the ridge of the Conway ranges until you come out at the lookout. With a stunning view over Cannonvale and Pioneer Bay you soon forget about the 4.1km you just walked to get up.