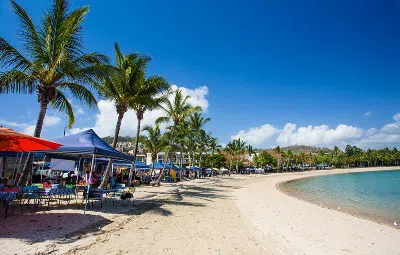 Opening hours: Saturday, 7am to 1pm & Cruise Ship days 
Charge: Free 
Location: Airlie Beach foreshore, near the Sailing Club 
Suitable for: All ages 
The Airlie Beach markets generally have more than 100 stalls full of fresh local produce, knick-knacks and clothing. For something special, treat yourself to a camel ride along the beach and make sure you have a happy shot taken with the Double Cone Islands in the background.  Each year sees more and more cruise ships dock in Airlie Beach and this industry has grown steadily.  
Passengers usually choose to do a shore excursion in the beautiful Whitsundays, and the local community supports this by holding the Airlie Beach Markets each day a cruise ship is in town. This helps give tourists a real feel for our community, and what little knick-knacks and specialty items we have to offer; letting them take a piece of the Whitsundays home with them!   
You can also hire a tuk  to pick you up from the markets and drop you back at your accommodation, on to the main street or even to the Port of Airlie terminal.  Call Just Tuk n'Around on 0421 513 033 to book one or simply look to wave one down at the markets.