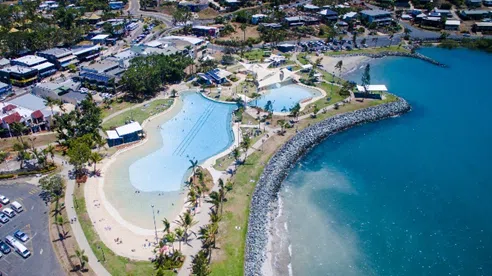 Airlie Beach
The Airlie Beach Lagoon is situated right in the centre of Airlie Beach and has become the focal point of the area. When you want to meet someone, you meet "at the Lagoon". If you want a great day of relaxation with no admission fee, "spend a day at the Lagoon". And the most rewarding thing of all is that the people of the Whitsundays have taken the Lagoon to their heart as much as tourists and visitors.
The lagoon is surrounded by grassy knolls, perfect for a spot of sunbathing, or finding a quiet spot in the shade to read a book. The sandy beach area at one end provides a safe stinger free environment for the children to play in the shallows and the lagoon is surrounded by landscaped gardens for added aesthetic appeal. A children's pool is situated at one end.
Opening hours:
Jan – May/ Sept - Dec: 5:30am – 9:00pm
June to August: 5:30am – 7:00pm
Airlie Beach Foreshore
The foreshore is well known for beachgoers, sunbathers and swimmers who hang out at the main beach in Airlie Beach and enjoy the waves and sand. It has BBQ areas, a playground and plenty of space for hanging out and relaxing.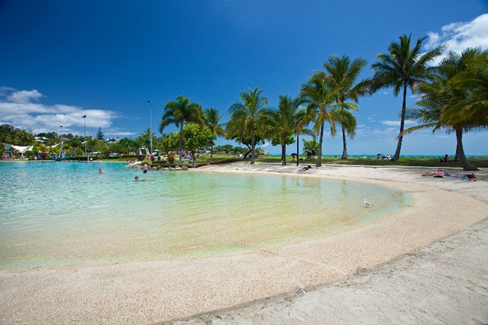 The Lions Airlie Beach Community Markets are held every Saturday morning 7am – 1:30pm on the foreshore of Airlie Beach. Items to buy include local produce, art, craft, locally made souvenirs, coffee, pies, and gifts. The markets are likely to happen at other times if there is a cruise ship in town for the tourists to enjoy with the locals.